Wednesday, August 7, 2013
/lk
Jim Townsend of Okanogan and the Columbia Basin River Dogs 18U baseball team topped Crater Lake, 6-3, to win the Pacific Northwest Senior Babe Ruth regional tournament Aug. 4 and advance to the Babe Ruth World Series.
The national tournament is Aug. 15-22 in Andalusia, Ala.
The River Dogs open pool play at the World Series against the Ohio Valley champions at noon, Aug. 15.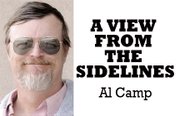 Other teams in the pool include New England (10 a.m. Aug. 16), Southwest (1 p.m. Aug. 17) and Alabama State Champion (4 p.m. Aug. 18).
The Top 3 from each pool advance to play Aug. 20-22 for the national title. Pool winners receive a first-round bye.
The Columbia Basin River Dogs reached the regional tournament by taking first in the North Washington tournament last month. They spruced up, going 3-0 at the 2013 Washington State Open last week.
Townsend was batting .306 with a double, triple and 5 stolen bases in limited play (49 at-bats) with the River Dogs before heading to the regional tournament.
He also pitched in six games, compiling a 2-2 record and 3.92 ERA over 25 innings.
The Columbia Basin Dogs 15-and-under baseball team came up a game short last weekend of reaching the Babe Ruth World Series.
On the team were Tyler Wood of Okanogan, Chase Rubert of Malott, Derek Alumbaugh of Winthrop, Cole Darwood of Twisp, Sam Thomsen of Methow and Luke Gleasman of Chelan.
The host Twin Cities from Chehalis/Centralia topped Columbia Basin in the championship.
To reach the regional tournament, Columbia Basin won the North Washington Babe Ruth State Championship.
"A few early on errors caused quite a ripple," Carine Wood said.
I heard that the Columbia Basin River Dogs, on which Jim Townsend of Okanogan plays, won a game in its tournament to reach the national tournament.
The regional tournament for the big dogs was to continue this week, according to the Babe Ruth League, Pacific Northwest Region website.
The big dogs went 3-0 at the 2013 Washington State Open last week before heading to Klamath Falls for the regional tournament.
uuuuu
There is not much time left for children to enter the "Do the Ride Thing" video contest.
Children age 6 to 18 have until August 15 to put together a video and help spread the important Ride Safe/Ride Smart message to other children and compete for a $2,500 grand prize.
The winning videos will be considered for use as an ATV Safety Institute or MSF Dirt Bike School public service announcement.
All entries, 30 or 60 seconds in length, should be submitted via YouTube as video responses to the contest announcement video.
There will be three winners in each of the three age categories: 6-10, 11-14, and 15-18 and in two product categories: ATVs and dirt bikes.
Official video content requirements, contest rules and entry forms are available at http://www.atvsafety.org/atv_psa_contest/.
The "Do the Ride Thing" contest is sponsored by the Washington State University Ferry County Extension Outdoor Education program.
For more information contact Janine Koffel at 509-775-5225, x1116.
Brette Boesel recently returned from competing at the 2013 USA Volleyball Girls' Junior National Champion-ships in Dallas, Texas.
Boesel, as well as Courtney Dietrich and Abby Phelps of Chelan, played for the Columbia Juniors Volleyball Club on the U18-black team coached by John Lengphounpraseut.
The Columbia Juniors completed their club season by finishing 4-6 at nationals.

Pateros High School is searching for a new head football coach.
Bill Haley, who coached 2011 and 2012, has stepped down.
No word yet on how the job search is going.
High school football practices start Wednesday, Aug. 21. All other fall sports start practicing Monday, Aug. 19.
Aaliya Marchand, 7, of Omak won a basketball drill at a June sports camp in Nespelem.
Marchand topped a 12-year-old to win it all.
I think she might get her competitiveness from her brothers, Tre and Virgil.
Al Camp is the sports editor at
The Chronicle. Email him at sports@omakchronicle.com.