Wednesday, August 14, 2013
/lk
Nothing irks me more than heading out into the mountains in my four-wheel drive on what was once a wagon trail or logging road only to run into a berm blocking access.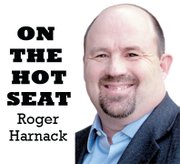 The berms are a common way forest managers stop vehicles for using existing roads on public lands. And they appeared heavily in the 1990s under the Clinton-era Roadless Initiative which declared areas roadless even though they contained hundreds, perhaps even thousands, of miles or roads.
It seems that gone are the days of driving into the woods and passing signs saying you're on a primitive, unmaintained road.
But there appears to be another tool in the war chest of eco-extremists wanting to keep us out of the forests.
That tool may be designed road deterioration.
Quite often today, forest managers say they don't have enough funding to repair damaged roads. So they close the road instead of keeping it open to the public.
A large percentage of funding for forest road repairs used to come from timber revenues. But with eco-extremists blocking every attempt to harvest timber, those revenues have dried up, essentially prompting the closure of roads too numerous to count.
A good example of that is the Suiattle River Road access to the North Cascades' Glacier Peak Wilderness Area. The road washed out about 10 years ago.
Until recently, land managers said they didn't have enough funding to repair the road that accesses trailheads and campgrounds on the edge of the wilderness.
Without the funds, eco-extremists were hoping to "re-wild" the roaded area by preventing access from the real owners of the land – the public.
Now that managers have the funds to repair the road, eco-extremists are suing to prevent its repair and reconstruction.
Ironically, the debate over that particular road may be splitting the environmental community again, setting the old Earth First! eco-terrorists apart from modern-day environmentalists. Many of today's up-and-coming environmentalists believe in preserving access to nature, not in prohibiting it.
Many of today's environmentalists want to hike the wilderness areas, raft the rivers and kayak the lakes. But to do that, vehicle access is necessary.
I've long been an advocate of keeping old forest and logging roads open.
Let's hope this new debate over accessing public lands ends with roads being kept open and repaired.
Roger Harnack is the editor and publisher of The Chronicle. He can be reached at 509-826-1110 or via e-mail at rharnack@omakchronicle.com.