Wednesday, August 28, 2013
/lk
Sometimes I just shake my head at some of the stuff that people report to the police.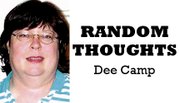 This stuff is so wacky it can't be made up. It has to be true. Often, the odd ones are funny on the surface, but I have to keep reminding myself that they must have been serious to someone, since the cops got a call.
This week's winner is tame in comparison to some. The sheriff's blotter contains an animal complaint from Twisp that starts out: "Rooster that lives in the county crows every morning at 4:30."
Um, yeah. That's what roosters do, whether they live in the county or the city. Especially at 4:30 a.m., unlike the one in our neighborhood that must be pretty mixed up since it often crows in mid-afternoon.
Another caller, this one in Tonasket, reported a vehicle prowl. Sadly, there are lots of vehicle prowls, but this one had a certain Goldilocks quality since the caller found someone sleeping in his burgled car.
A few days earlier came a call about a disabled vehicle south of Loomis. Apparently the driver refused help and then began throwing rocks at the vehicle.
I doubt that convinced the vehicle to cooperate.
Another odd one this week was the reported theft of two animal control traps. No word on whether they contained animals.
Crooks are either getting more creative or more desperate. In a rural Oroville vehicle prowl, the thief broke into the vehicle using a screwdriver and nail clippers.
That must have taken awhile. Full moons usually bring out the oddballs, as journalists and cops both can attest. The strange calls seem to abound. Last week had a full moon.
Through the years, there have been some calls I consider classics, though I don't know whether they occurred under the light of a full moon.
Many years ago, the Omak Police Department responded to a possible jumper on the Central Avenue bridge. They found a man dangling a telephone cord, handset still attached, over the rail.
The man explained that the cord was horribly kinked and the bridge was the only place he could think of that was tall enough to allow the cord to unwind.
In another incident, a Conconully bar was robbed during the night and one of the only clues was that the telephone had been moved. On a hunch, the investigating deputy hit the redial button and got a local cab company.
The deputy inquired whether the cabbie had picked up a fare near the burglary location. He had. The cabbie was ask
ed where the rider was taken. The deputy went to that location and an arrest soon followed.
Dee Camp is a reporter at The Chronicle. She can be reached via email at dcamp@omakchronicle.com.