Wednesday, August 28, 2013
/lk
Teammates take on tough triathlon
Sonny Sellars and Spirit Peoples of Omak and representing the Colville Tribe competed in the inaugural Challenge Penticton Relay triathlon Aug. 25 in British Columbia.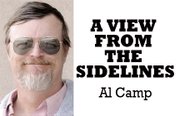 Sellars, 39, swam 2.4 miles in 1 hour, 19.06 minutes. He took 4:26 in the transfer to the 112-mile bike ride, which he finished in 6:58.14.
"The swim course had lots of choppy water and some big swells," Sellars said. "The wind blew some of the buoys away overnight. It was hard to stay on course as I swam the last 1,800 meters. I got cramps that made me stop for five minutes with the aid of a kayaker."
The bike leg included cool temperatures and little wind.
"The cramps during the swim affected my bike ride and made me tired earlier than I hoped," Sellars said. "But I lost 50 pounds this year and had an easier time managing the hills and the day. I was very glad to be off the bike and handoff the marathon to Spirit."
After a 1:47 transition, Peoples, 41, took off and wrapped up the event by running the 26.2-mile marathon in 5:26.08.
"He had a good first half marathon to Okanogan Falls, but cramped a lot on the way home," Sellars said of Peoples. "The weather held for him and he came home in the dark, so it wasn't hot. That was his first marathon and he held up awesomely. I couldn't have asked for a better teammate."
The duo's combined time was 13 hours, 49 minutes, 39 seconds.
"I'm looking forward to next year's Challenge Penticton," Sellars said. "I might do a couple easy races in September."
Oroville High School Athletic Director Brett Fancher announced Aug. 26 he was stepping down.
Tam Hutchinson, who coaches the football and baseball teams, will move to the AD position.
"The growing demands on my time in the classroom have led to this decision," Fancher said. "During my three years in this position, I have enjoyed working with each of you. It was easily my favorite part of the job. Until I see you again, good luck with your year."
Fancher, who is entering his 11th year at Oroville, teaches English and Social Studies at the high school.
Prior to Oroville, Fancher taught for three years at Omak High School.
"From my brief time, I have seen that the league has benefitted from your commitment," Riverside Christian AD/Superintendent Rick Van Beek said in response to the emailed announcement. "Best wishes as you pursue other things."
Dylan Green of Tunk Valley turned some heads last week during a scrimmage at Carroll College in Helena, Mont.
Green, who redshirted last year, is trying to wrest a backup running back role with the Fighting Saints.
Carroll College opens against Menlo College at 2 p.m. Saturday, Aug. 31, at Eastern Washington University in Cheney.
Green and Jordan Pine got a lot of work in the scrimmage in effort to backup Dustin Rinker.
Coach Mike Van Diest indicated there may be some by-committee work at the position — both backs showed Friday that this could work well, the Independent Record in Helena said.
Green showed he's got speed in space, once breaking around the corner and speeding in for a 60-yard score. He also scored later on a shorter sprint, the newspaper said.
Pine had a strong day and powered out some tough yards.
"I had good blocks up front and I read my tight end … they just opened some room," Green said. "I can't do it without the line, and they did well today."
Green said while the team can never replace graduated record-setting back Chance Demarais, the team has plenty of depth at the position.
"There's Rinker, there's (Colter) Rood, there's Pine, there's me. And we brought in a guy from the University of Montana, Adam Debrucker. We have a ton of talent."
Shelli Martinez of Omak is heading a six-woman Colville Tribes team to compete at the PATHSTAR Alcatraz Swim Week on Oct. 6-14 in San Francisco.
The 1.5-mile swim from the island to town culminates a week of learning about healthy lifestyles.
PATHSTAR works with Native American communities to encourage healthy nutrition and active lifestyle practices.
Martinez most recently returned from England, where she gave a talk on the legacy of American Indian boarding schools at the Oxford Symposium in School-based Family Counseling. Educators from Canada, Australia, Turkey, Germany, South Africa and other nations attended her presentation.
She is a member of the Colville Confederated Tribes Diabetes Prevention Program.
Mark D. Clark, who competed in track and would have been a junior this fall at Cascade High School in Leavenworth, was killed in an all-terrain vehicle crash Aug. 17.
Clark, 17, was riding an ATV on Sunitsch Canyon Road when he apparently lost control and was thrown against a tree. The ATV rolled over him, pinning against the tree and causing neck and head injuries, Chelan County Sheriff Brian Burnett said in a story carried by The Seattle Times on Aug. 19.
Clark was pronounced dead at the scene.
He competed for the first time in track this spring, with bests of 13.98 seconds in the 100 meters, 27.77 in the 200, 1:05.39 in the 400 and 69 feet, 10 inches in the javelin.
Clark also competed in the 4x100 and 4x400 relays.
Washington Interscholastic Activities Association recently announced the broadcast schedule for the 2013 Emerald City Kickoff Classic.
Fans unable to attend the four matchups at the new Husky Stadium can catch the action live on the WIAA Network, although there is a cost of $14.95 to view all four games live on the digital platform.
Single game options will not be available.
All four games will be archived and available for on-demand viewing for free after the completion of the event.
The ECKC returns to Seattle after spending one year in Cheney.
You just never know what might slide across the screen via email.
This week I received notice of a baseball, called CSPIN, that is a training device for baseball or softball pitchers.
The ball shows proper grip and rotation of various pitches.
CSPIN has a rotational indicator that the pitcher can see as the ball is thrown away from them. This allows the pitcher to see the direction of the spin and make corrections if needed.
There are also finger indicators that help the pitcher learn the proper grip for different pitches. You can view a video of the CSPIN in action at www.kickstarter.com.
For those that enjoy competing in obstacle races, the Tough Mudder could prove a challenge Saturday, Sept. 21, at Covert Farms in Oliver, B.C.
You can compete solo or on teams of up to four people. There are both competitive and recreational categories.
Categories include solo male or female, all-male team, all-female team, mixed team and senior male/female (age 60-plus).
Children can sign up for the Freak'n Little Farmer challenge.
Registration and information is available at www.thefreaknfarmer.ca.
The state Fish and Wildlife Commission adopted 2013-14 hunting seasons for migratory waterfowl and approved several land acquisitions designed to conserve fish and wildlife habitat earlier this month.
Approved were seven land acquisitions – five purchases and two conservations easements – for parcels ranging from 1.3 to 191.4 acres in Pacific and Okanogan counties.
Each parcel is either adjacent to existing state wildlife lands or surrounded by other publicly owned land, state Director Phil Anderson said.
The Okanogan transactions will protect shrub-steppe habitat, mule deer winter range and migration corridors used by deer, bighorn sheep and other wildlife.
The 2013-14 general duck season will be open for 107 days – from Oct. 12 through 16 and from Oct. 19 through Jan. 26. A special youth hunting weekend will take place Sept. 21 and 22.
Fishing has slowed on the Conconully lakes, Gene Bussell of Liar's Cove Resort said.
"They are still catching some trout and we had two couples catch their limit of kokanee last week," he said. "They were using white marshmallow and worms."
Brothers caught bass off the resorts dock last week.
Cales and Garritt Thrush of Yakima caught some keepers using night crawlers "two cranks" off the bottom, Bussell said.
The biggest bass weighed 2.3 pounds.
"They also caught a few smaller trout," he said.
Al Camp is the sports editor for The Chronicle. Email him at sports@omakchronicle.com.