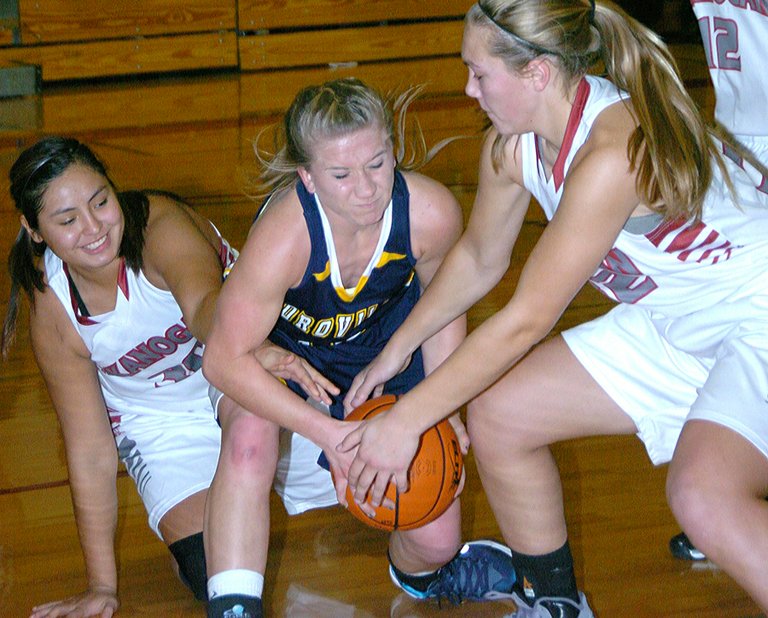 Originally published December 4, 2013 at 11:31 a.m., updated December 4, 2013 at 1:50 p.m.
/lk
OKANOGAN — Okanogan boys and girls dominated basketball play at a jamboree Tuesday night in their home gymnasium.
Okanogan girls dunked Oroville, then routed Liberty Bell in two of the eight, 10-minute jamboree match-ups kicking off the winter high school sports season.
Okanogan girls
The Okanogan girls topped Oroville, 23-2, behind 4 points each by Jill Townsend and Jordyn Boesel. Mikayla Scott scored 2 points for the Hornets.
The Okanogan girls closed out the night toppling Liberty Bell, 44-2. Townsend and Cayden Diefenbach each scored 8 points. Boesel scored 7 points and Janice Romero 6 points.
The Mountain Lions got a free throw each from Lauren Fitzmaurice and Exie Romero.
Okanogan boys
Okanogan used its junior varsity boys to beat Oroville, 22-5.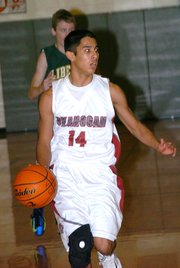 Toby Pruitt scored 9 points and Joey Staggs added 7 points for the Bulldogs.
Dustin Nigg hit a 3-pointer and Bryce Glover made two free throws for Oroville.
Okanogan put its varsity boys on the floor to defeat Liberty Bell.
Scoring was not available for the game.
Other games
Kylie Dellinger and Kathryn Cleman each scored 4 points to lead the Tonasket girls past Liberty Bell, 16-7. Fitzmaurice scored 4 points for the Mountain Lions.
Oroville overcame the Tonasket girls, 13-2, in a game with 14 fouls between the two teams. Brittany Jewett scored 7 points and Kali Peters added 5 points for Oroville.
The Tonasket boys used a late run for a 20-14 win over Liberty Bell in the tightest contest of the night. Michael Orozco and Ethan Bensing each scored 6 points for the Tigers. Austin Watson and William Duguay each scored 4 points for the Mountain Lions.
The Tonasket boys, behind the 6 points by Orozco, beat Oroville, 20-10. The Hornets' Bryce Glover (5 points) and Joe Sarmiento each hit 3-pointers for the Hornets.