Sunday, December 8, 2013
/lk
When the Australian Kempsey Spirit team played Okanogan, it reminded me that we have several athletes from this region who have competed in Australia or against Australians.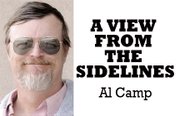 First to come to mind is Chantel Heath of Reardan, which won the state 2B title two years ago.
Heath, a freshman studying physical therapy at Central Washington University on a full-ride scholarship, looked great on a trip with an USA team to Australia this summer.
The 5-6 point guard was named MVP of her team, called the Wildcats, which included players from New Mexico, Minnesota, Arizona and California.
Chantel has family members from the Keller District of the Colville Indian Reservation and is the daughter of Deanna and Michael Heath. Her grandparents are Robert and Rosalie Heath and Leroy Jerred and Jeanne Jerred.
A reserve this season, she played eight minutes for Central (3-3) in a 64-49 loss to St. Martin's College (4-3) on Dec. 5.
Bullrider Shane Proctor, formerly from Coulee Dam, is familiar with Australians, who sometimes compete at Professional Cowboys Rodeo Association rodeos.
Proctor moved from 10th to fifth in the world standings with a winning ride of 89 points in the first round of the Wrangler National Finals Rodeo on Thursday night in Las Vegas, Nev.
"I wanted to come in here relaxed," said Proctor, who qualified for his third NFR. "I feel I'm in the zone I need to be. I won the 10th round here last year and now I won this round, but it's always one bull at a time.
Proctor lives with his wife, Jessie, in Troutman, N.C. His parents still live in the Coulee Dam area.
The opening night ride added $18,630 to Proctor's career earnings of $555,174.
The Bjornsen siblings, Sadie and Erik of Winthrop, see their share of international competition in Nordic skiing.
Sadie was in Finland last weekend, where she qualified third in the sprint, seventh in a distance race and was 17th overall.
"Those are by far my best results, so that is exciting leading into an Olympic season," she said.
This weekend she is racing in Lillehammer, Norway, starting with a 10K. She will do a relay Sunday."From there it is World Cup racing every weekend leading up to the Olympics," she said in an email.
Erik was in West Yellowstone, Mont., on Friday for the start of the Super Tour.
Al Camp is the sports editor at
The Chronicle. Email him at sports@omakchronicle.com.