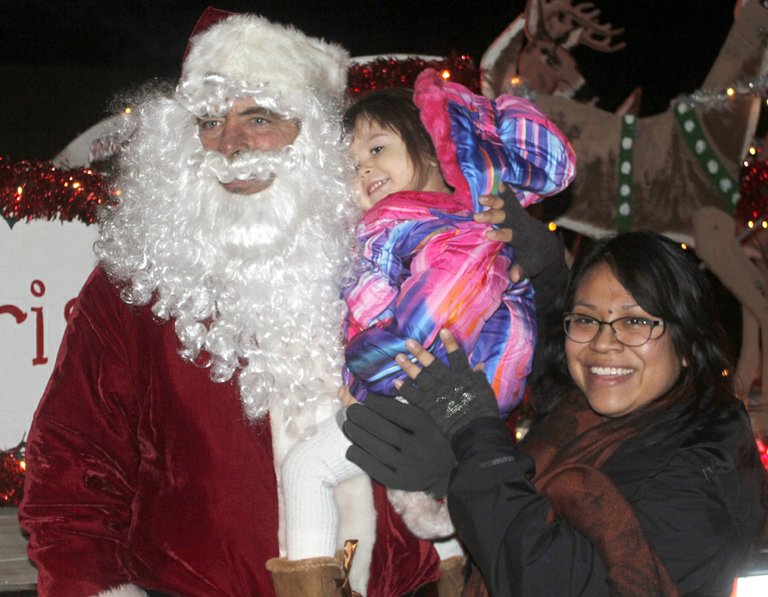 Wednesday, December 11, 2013
/lk
OMAK — Santa Claus will visit several neighborhoods tonight, the second of his three night tour greeting area children and collecting donations for area food banks.
Tonight, Santa (Don Burford) is expected to start on the north side of downtown near Ash and Apple streets and move south through the city.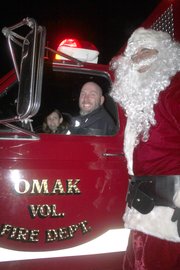 Beginning about 5:30 p.m., the Omak Fire Department will be providing an escort for about the first 90 minutes of travel. Firefighters will be blaring their siren along the way.
After that, cars leading Santa's way will honk horns heralding the jolly ol' elf's approach.
"Listen for the horns and siren and you'll know when Santa is nearing your area," coordinator Roger Harnack said.
Santa hopes to work his way completely through the downtown and South Omak areas tonight, halting tonight's activities before 9 p.m., he said.
On Thursday night, he plans to cover Okanogan, starting about 5:30 p.m. at the Okanogan County Public Utility District on Elmway and working his way south. The Okanogan tour is expected to end in the vicinity of Virginia Grainger Elementary School.
The tour kicked off Tuesday night in the North Omak neighborhoods, where children flocked to street corners to greet the jolly ol' elf.
"About 100 children - young and old - came out and met Santa last night," Harnack said.
Santa traversed several streets, stopped at the new Pioneer Lane apartments and hit the Wildwood subdivision.
Along the way, he and his elves collected several bags and boxes of donations for area food banks.
Anyone missing Santa's tour can catch him Saturday night in downtown Omak after the Twilight Parade. And those wishing to make donations to area food banks can drop off non-perishable items at The Chronicle, 618 Okoma Drive.
Last year, more than two pick-up truck loads of donations were collected for food banks.