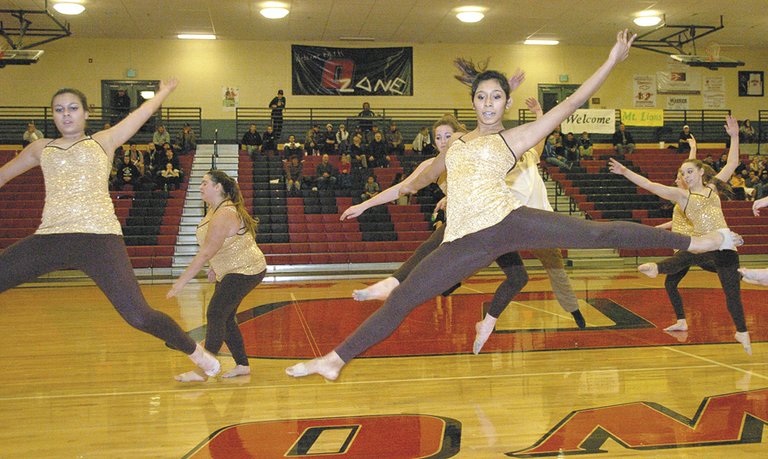 Friday, December 13, 2013
/lk
OMAK — A Western-themed production of "The Nutcracker" ballet will be staged Friday through Sunday in the Omak Performing Arts Center, 14 S. Cedar St.
Show times are 7 p.m. Friday, 1 p.m. and 7 p.m. Saturday and 3 p.m. Sunday. Admission will be charged.
The Children's Dance Theater cast includes dozens of local youngsters — and a few adults — in a variety of roles, from Clara and the Nutcracker Prince to bon bons and dancing snowflakes. Several Omak Middle School football players will wage a fun battle against the Punk Rats and Rat King.
High school seniors in the production are Patti Watson, Samantha Menendez, Cinthya Ibarra, Cody Burse and Gracie Bitzes Thomas.
The cast includes Patti Watson, Clara; Samantha Menendez, Queen of the Snowflakes and Spanish Chocolate; Cinthya Ibarra, Sugar Plumb Fairy; Cody Burse, Nutcracker Prince; Gracie Bitzes Thomas, Mrs. Stahlbaum; Nathan Cardenas, Mr. Stahlbaum; Zane Hickman, Fritz; Michael Miller, Uncle Drosselmeyer; Cody Burse, Drosselmeyer Assistant; Michael Miller, Rat King; Haley Montowski, Lead Chinese Tea; Laila Kent, Arabian Coffee; Janelle Catone, Queen of the Flowers; Jody Love, Mother Ginger; Janelle Catone, Hayley Larson and Emma Halpin, flower dolls; Haley Montowski, China Doll; Cinthya Ibarra, Sugar Plumb.
Punk rats - Kayle Clough, Brooklyn Swager, Mya Moses, Lexi LaDoux, Nuridia Renteria, Chloe Peterson, Shiann McCallum and Lyndzi Scott.
Mice - Alivia Smith, Natalee Vandelac, Eliana Jensen, Ariana Bailey-Scarbary, Pepper Boesel, Lahalee Michel, Hailey Anna Howell, Elisha Shiles and Skyla Beetchenow.
Beginner snowflakes - Megan Heinlen, Lilia Jensen, Mara Jensen, Presley Somes, Emily Shiles, Alexandra Shiles, Taylor Smith, Mary Lu Tafolla and Josie Fletcher.
Intermediate snowflakes - Olivia Kramer, Perla Ibarra, Lily Reavis, Autumn Scheel, Juels Marchand, Jessica Heinlen, Sedeaju Michel, Ava Watt, Meladie Young, Kaylee Sullivan, Caroline Zoretic, Katharine Zoretic, Zienna Erikson and Taya Graham.
Advanced snowflakes - Sammie Vedders, Sophie Fletcher, Hailey Kramer and Elisabeth Bedard.
Chinese tea - Haley Montowski, Kaylee Clough, Lexi LaDoux, Ashley Blakemore, Mya Moses, Hannah Schneider and Nuridia Renteria.
Reed flutes - Katie Henneman, Hayley Larson, Megan Dykes, Daisy Ibarra, Morgan Tyus, Aspen Bosco, Rosemary Hickman, Brooklyn Swager, Mya Moses and Kaytie Miller.
Waltz of the Flowers - Janelle Catone, Haley Montowski, Aspen Bosco, Hayley Larson, Daisy Ibarra, Katie Henneman, Emma Halpin, Megan Dykes, Morgan Tyus, Riley Howell and Gracie Bitzes Thomas.
Russian Trepak - Sadie Halpin, William Halpin and Zane Hickman.
Bon bons - Mariah Salas, Isabella Moore, Pearl McArthur, William Halpin, Sage Sheely, Gracie Kominak, Nina Kominak and Glacier Gilbert.
Party guests, family and friends - Katie Henneman, Megan Dykes, Daisy Ibarra, Rosemary Hickman, Kaytie Miller, Shainn McCallum, Kaylee Clough, Lyndzi Scott and Rae Lynn Shiles.
Adult party guests - Mariha Allen, Stephanie Bedard, Betty Clough, Linda Dunn, Melissa Hickman and Jessica Tafolla.
Gridiron warriors - J.J. Ibarra, Jo Jo Ibarra, Jason Truitt, Colton Sam and Mason Morgan.
Working behind the scenes are Lorrie Fraley Wilson, director/choreographer; Leah Beetchenow, assistant director/choreographer; Katie Fergus, snowflake choreography/direction; Jody Love, Mother Ginger and the Bon Bons choreography and direction; Michael Miller, Russian Trepak choreography and direction; Riley Howell, stage manager; Children's Dance Theater Board, production management; Betty Clough, Linda Dunn, Fay Cole, Amy Bosco and Karen McCauley, costume designers and seamstresses; Nicole Leese, technical director; Riley Howell and Melissa Hickman, prop masters; T. Lewis, graphic arts designer.
Ushers will be Girl Scout Troop 3809 of Oroville, Girl Scout Troop 4805 of Brewster, The Red Hat Society and the Range Riders 4-H Club of Tonasket.