Sunday, December 15, 2013
/lk
When you are out ice fishing this winter, and it's been cold enough to freeze some of the lakes for sure, I hope you are smart enough to do it safely.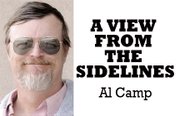 The biggest dangers are falling through the ice and getting frostbite or hypothermia.
I used to meet up with a few other anglers, including Omak's Lloyd Little, to ice fish Duck Lake in the 1980s.
Lloyd showed me how to drill a hole (well, I got him to drill me one and I watched) and set the tippet of my pole to watch for strikes.
He always seemed to catch fish and I got nary a bite while freezing my, um, rear end off. People would say Lloyd could catch the only fish in a mud puddle.
After I caught a nice rainbow at Duck, I was hooked.
Toward the spring, the ice in the middle of the lake was plenty thick, but along the short it was barely an inch thick.
I wanted to fish. So I ran down the rocky embankment and made a leap of faith onto the ice with but a small splash.
I fished all afternoon. It was great.
When it came time to leave, I found a lot more of the ice had melted. The leap to short came up way short.
I gave Lloyd a holler Friday, a good holler since at 85 he can't hear quite like he did 30 years ago.
The biggest fish he ever caught through ice was a six-pounder out of Hess Lake, north of Omak a couple decades ago. Lloyd reports there are crawfish, bass and a few trout still in Hess.
"He usually comes home with fish," Lloyd's wife, Arlene, 84, said. "He catches them, he cleans them."
Al Camp is the sports editor at
The Chronicle. Email him at sports@omakchronicle.com.