Wednesday, December 18, 2013
/lk
Last week, I had the opportunity to help Santa Claus navigate the streets of Omak and Okanogan as he brought Christmas cheer to area children and collected donations for area food banks.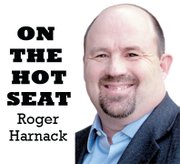 It's quite rewarding to see the children's faces light up when Santa stops on their street, even if only for a few seconds. And it's quite rewarding to accept donations on behalf of the food bank from residents wanting to help their less fortunate neighbors.
But I couldn't be a part of that experience if it weren't for the Omak and Okanogan chambers of commerce, local fire departments and the Okanogan County Sheriff's Office, all of which contributed to this Christmas tradition.
Over three nights on the cities' streets, we collected several bags of nonperishable foods and even a few dollars in cash.
I can say that I witnessed first-hand how much the effort brings residents closer together. At the same time, it closes the gap between the two chambers of commerce as well.
Over the years, the chambers have developed separately. They work collaboratively on very little.
But in watching what the two groups can do together with Santa and a couple other partners, it's easy to see that a single, unified chamber of commerce can do much more. It's clearly time for the two business organizations to team up and become a single group dedicated to improving the Omak-Okanogan business climate.
Before my time, I'm told, there was a rift in the Omak business community dividing the highway businesses from the downtown district. And while that rift may still exist in the minds of some today, businesses throughout the city have come to realize they need each other.
Downtown merchants need the "big box" stores, which prompt travelers to stop and bring shoppers from Canada, Grand Coulee, Ferry County and other locations. The big box stores need downtown "mom-and-pop" shops to offer an expanded, enjoyable shopping experience.
Well, the same can be said of Omak and Okanogan.
Okanogan businesses need their counterparts in Omak to send business their way and vice-versa.
There isn't any room for a parochial approach to our business community any more, not when we have to compete with other areas for what seems like diminishing dollars.
The Omak and Okanogan business districts cannot afford to continue to act as though they are competitors. They need each other.
It's good food for thought this week as we take donations from both communities to food banks in Omak and Okanogan.
Roger Harnack is the editor and publisher of The Chronicle. He can be reached at 509-826-1110 or via email at rharnack@omakchronicle.com.