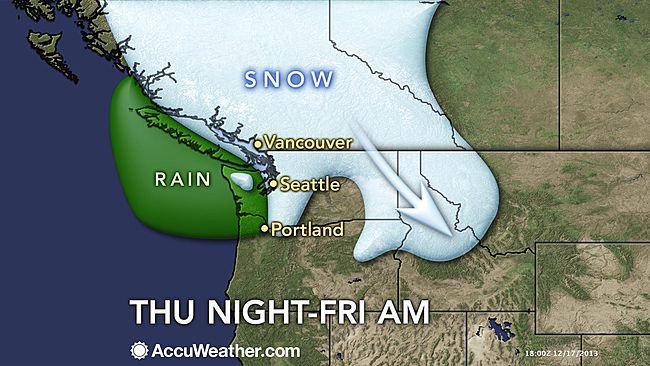 Wednesday, December 18, 2013
/lk
OMAK — Dreaming of a white Christmas?
It may be only a wish this year since only a small winter front is expected to move through North-Central Washington between now and Dec. 25.
"It looks like Friday will be your best bet," meteorologist Steven Van Horn said Wednesday from the National Weather Service station in Spokane. "We are forecasting a little bit of snow, may an inch or so to an inch-and-a-half. That's about it."
By Christmas day last year, about 24 inches of snow had fallen in the Conconully area, Weather Service statistics show. Omak-specific data was unavailable.
The last time the Omak-area had a Christmas without snow was 2002, the Weather Service reported.
But even if it snows Friday, a white holiday may only be something on your Christmas wish list as warmer temperatures are expected over the weekend, the Van Horn said. Highs Sunday and Monday are expected to be in the low- to mid-30s.
Outside the Okanogan Valley, there's a better chance of having a white Christmas.
According to the National Weather Service forecast, "snow will be the dominate weather-type Friday."
Snow is expected to accumulate along the Cascades and the northeast and southeast portions of the state, the Weather Service said. But here in North-Central Washington, the chance for snow is "lowest from the Okanogan Valley southward..."