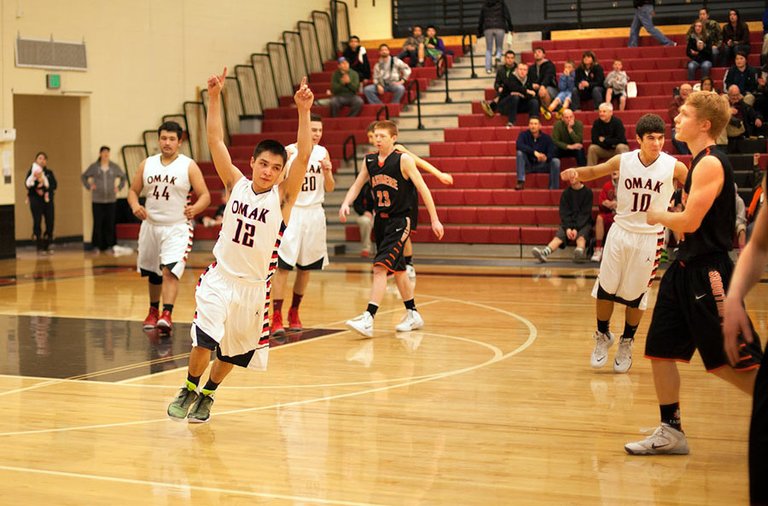 Monday, December 23, 2013
/lk
OMAK — The Omak High School boys basketball team won a pair of close games last week and moved into a tie for fourth place in the Caribou Trail League.
The Pioneers came from nine points down at the half against Cashmere on Saturday before pulling out a 57-53 league victory.
"We were focused on slowing down their transition game, which I felt we did the first half," Omak coach Kyle Desautel said. "However, we didn't really get into any rhythm. The second half play picked up and we were able to get running and some transition points ourselves.
"I felt we handled the paint the second half. We got a couple big threes in transition at critical times and were able to hit our foul shots down the stretch."
Chance Williams made a free throw with a second on the clock to lift the Pioneers past Oroville in a non-league game Dec. 17.
Brewster, which leads the CTL by a half game over Okanogan, beat Omak, 67-35, on Friday.
More on Omak other regional basketball teams in The Chronicle, which will be on the street today, a day earlier than normal due to Wednesday being Christmas. The Oroville victory was reported in the Dec. 22 issue of The Chronicle.
Omak (5-3) returns to action at Okanogan (7-0) for a league game Jan. 3.
Omak (57) – Martinez 2, Boyd 17, Covington 0, vanSinten 2, Desjardins 5, Saxon 8, Smith 3, C. Williams 17, Lamb 0, P. Williams 3.