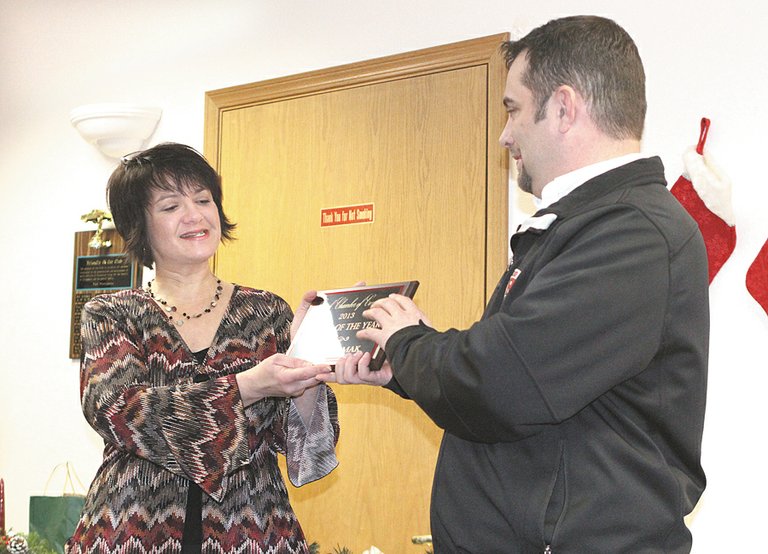 Wednesday, December 25, 2013
/lk
OMAK — The Omak Chamber of Commerce handed out a pair of awards and celebrated a successful 2013 at its end-of-the-year banquet Wednesday at Koala Street Grill.
The chamber honored Nattalie Cariker with its Citizen of the Year Award for her involvement in numerous local events and festivities. The Citizen of the Year Award can go to anybody in the community, regardless of whether or not they are a chamber member.
Cariker, a member of City Council, was responsible for spearheading several activities in town, including recently the Jingle Bell Jog and the Christmas decorating contest.
The chamber also acknowledged Big R with its Business of the Year Award.
Chamber President Corina Radford said Big R, 1227 Koala St., is a great part of the community, in addition to donating money to almost every project the Omak Chamber of Commerce tackles.
Store manager Andy Keith, accepting the award, said that's just part of Big R's philosophy.
"We keep everything down to earth and in town."
Radford, who was closing out her sixth term as chamber president, said the organization had an "excellent year," which included a number of successful events, as well as the formation of the downtown association.
The chamber is looking to revamp the downtown association once again next year, she said.
Other successful events included movie night and the Halloween festival at Civic League Park, the Jingle Bell Jog, a circus, the Twilight Parade and Santa Claus' three-night trek through Omak and Okanogan, both handing out candy canes and collecting donations for different food banks in the area.
Radford said she looks forward to the chamber continuing that tradition.
This was also the first year the chamber has taken over the Omak Stampede parade.
Radford said the organization deserved a "huge round of applause."
Being the first year the chamber has handled that parade, Radford said she sees "so many ways that can expand."
Meanwhile, 2013 may have been the final year for the Charm Trail, which has been a chamber activity during Stampede week for the past five years.
After an initial rise in popularity, interest seems to have dwindled in recent years.
There are still some charms available from different businesses in the area.
The chamber also elected new officers for 2014.
Kim Beus, of Big R, will take over as president.
Mike Stenberg, of Okanogan Pressure Washing, will be vice president; Jodi Coggins, of the city of Omak, will be secretary; Stacey Okland of Okanogan County Community Coalition will be treasurer.