Wednesday, July 3, 2013
/lk
The day has come where I finally can see my daughter's words coming true.
But let me set the stage...
In my Jet Ski racing career, I've been among the top novice riders in North America, having finished as the No. 10 U.S. rider in 2008 and the No. 5 rider in Western Canada in 2009.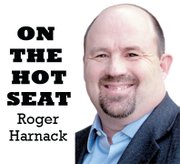 During various awards banquets in those years, my daughter, Olivia, was asked to present me with any awards I'd received.
At the time, she would've been 6 or 7 years old. And with all young children, she had words of wisdom and challenge that make most adults laugh.
"Daddy is a good swimmer, but I'm a better racer," she quipped at one race where I crashed at about 50 mph and had to swim several yards in the current to get back to my SuperJet and finish the race.
At the time, she was still just learning to swim.
Fast forward to two years ago.
At age 9, Livy raced for the first time. She rode a Kawasaki 750 to a first-place finish at an event where she was the only junior racer.
In one of her motos, she came off the ski in the Columbia River and had to swim back to her "boat" get back on and finish the race.
Although she couldn't come close to matching me speed-wise, she showed she could handle a Jet Ski and the changing water conditions. She also showed no fear in the middle of the river and was level-headed enough to get herself back into the moto and complete her laps.
Last year, Livy was poised to race her own Kawasaki 300sx — an old ski we rebuilt just for her to race. Joe MacLean wrapped her ski in a pink-and-white striped skin bearing the No. 67.
On the buoyed watercross race course, we had the ski dialed in. But just as she was really starting to get the hang of standing up, she blew the head gasket. Just like that, before she could get to the startline, her season was over.
Since that time, she's continued to tell me this is the year she was going to beat me. I hadn't given it much thought since she wasn't yet standing and turning even her own Jet Ski.
But in the last three weeks, Livy's determination to beat me has shined. She has not only learned to handle her own Jet Ski, she has also learned to handle mine. She can kneel and stand on each of the skis we race.
On Sunday, Livy did something else — she stood up on my race ski and was able to run it full-throttle.
Later this month, Livy will race her own ski and maybe mine in the annual Apple Pie Jamboree. We'll see how she does this time around.
It's exciting watching a girl who has grown up on the water come into her own. But it's also a little unnerving that an 11-year-old may be ready to challenge me in the near future.
Will this be the year she beats me? Probably not.
It'll take her a few years to develop the arm and shoulder strength to manage a ski well enough to outrun me to the checkered flag. But the day is coming. And it's coming a lot sooner than I thought it would.
I'm looking forward to the day she is faster than me, and is able to say "I told you so."
Roger Harnack is the editor and publisher of The Chronicle. He can be reached at 509-826-1110 or via e-mail at rharnack@omakchronicle.com.