Wednesday, July 3, 2013
/lk
A few nights ago, we heard a cricket chirping loudly and figured it must've gotten in the house somehow.
It chirped for quite awhile and that got me to thinking about one of my favorite childhood books, "A Cricket in Times Square."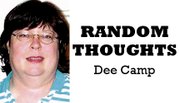 That set me to remembering other books with a similar feel, "Stuart Little" and "Charlotte's Web" among them.
Summer is a great time to kick back with a good book, especially if you're a kid. When it's hot, a good book and a cool drink in the shade are sure-fire ways to beat the heat.
I have vivid memories of visiting the local library, which was a cool, slightly dark haven with shelf upon shelf full of enticing books.
I'd check out stacks of them at a time. I think the librarian must have been shaking her head as I walked away, wondering if I'd read them all before they were due. Usually I did.
We'd also order a bunch of paperback books from the Arrow Book Club.
The big box would arrive in the mail and I'd spend hours reading my way through the box's contents.
The "Little House," "A Wrinkle in Time," "Nightbirds on Nantucket," "Homer Price," "The Egg and I," Rudyard Kipling's works – all were on my summer reading list.
Later, as our son was growing up, we revisited many of those and also added some newer books – the Harry Potter series, "Hank the Cowdog," Brian Jacques' "Redwall" books and others.
Many youngsters are reading this summer, either on their own or as part of the library system's summer reading program.
Do you have favorite books you'd like to share with young readers?
Drop me a line and I'll try to pass on some of your suggestions.
Dee Camp is a reporter at The Chronicle. She can be reached via email at dcamp@omakchronicle.com.