Wednesday, July 17, 2013
/lk
Jesse Ruiz, who competed as a heavyweight wrestler for Mexico at the 2012 Olympics, is flying to Okanogan for a wrestling camp Aug. 10.
The camp will feature two sessions – 10 a.m. and 3 p.m., organizer Lee Morrison said.
"Kids of all ages are welcome to attend," he said. "It's not often you have a chance to learn from an Olympian."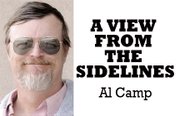 Ruiz, 28, has been actively working as a voluntary assistant wrestling coach at The Citadel in Charleston, South Carolina.
The eldest in his family of six, he was born and raised in Santa Ana, Calif., by Mexican immigrants. He began with wrestling in his sophomore year at Santa Ana Valley High School, and placed seventh for the heavyweight division at the national state high school championships.
In 2008, he became a National Association of Intercollegiate Athletics champion, and in the following year, he claimed his third championship title in the All-American division.
After graduated from Menlo College in 2010, Ruiz was recruited to Alpha Omega Wrestling Club in Mexico City, Mexico, to compete and represent his parents' birth nation. At the peak of his sporting career in Mexico, he became a three-time national champion and won a silver medal at the 2010 Pan American Wrestling Championships and won a silver medal at the FILA Pan American Olympic Games Qualifying tourney.
At the Olympics, Ruiz competed in the men's heavyweight division for freestyle wrestling, where he was eliminated in the first round.
Ruiz also had a chance to qualify for an Olympic bronze medal in the repechage bout; however, he lost to Kazakhstan's Daulet Shabanbay in the first round on a technical fall.
Cristian Talavera and Luis Orozco, who are sophomores at Brewster High School, competed with the U17 Spokane Shadow SSC from Spokane in the 2013 Nike Crossfire Challenge last weekend in Redmond.
The Shadow, which played in the gold division, fell 2-0 in its opener to Washington Rush B96 on Saturday, July 13, at the 60 Acres soccer complex.
On Sunday morning, Crossfire Premier B96 Academy Reserve topped the Shadow, 4-0.
Mount View/Los Altos SC MVLA 96B knocked off the Shadow, 3-0, on Sunday evening.
Talavera's play attracted the attention of a coach from the University of Denver.
Only the three bracket winners and a wildcard advanced to the semi-finals to be played July 15.
Jim Townsend of Okanogan is staying busy this summer competing in basketball and baseball and attending football camps.
Townsend along with Tyler Wood of Okanogan, Chase Rubert of Malott, Derek Alumbaugh and Sam Thomsen of Winthrop and Cole Darwood of Twisp, will be playing for the Columbia Basin 15-year-old all-star team that opened play Tuesday, July 16, in the state tournament in Ephrata.
Also on the team is Chelan's Luke Gleasman.
Townsend has played in 19 games with the Columbia Riverdogs, hitting .306 with six RBIs. He's also pitched six times with 22 strikeouts, 2-2 record and 3.92 ERA.
Also at Ephrata are tournaments for Babe Ruth ages 13, 13-15 and 16-18.
The region sent four girls to Oregon July 6-9 for basketball tournaments.
Cayden Diefenbach of Omak competed for the Spokane Legacy 17U team, which went 2-2 at the End of the Trail tournament July 6-9 in Oregon City, Ore.
Her team headed north to Seattle for the MSNM National Tournament, winning its bracket – there were three brackets in each division. She played in the All-Star Division Championship, where her team finished second out of 42 teams in the division.
She will wrap up summer tournaments July 26-31 in San Diego.
Jill Townsend and Jordan Boesel of Okanogan played on the Northwest Blazers Future team, which went 2-2 at the End of the Trail tournament.
Chandler Smith played for the Northwest Blazers, which won the national division (5-0) at the End of the Trail Tournament.
Smith would make the all-tournament team.
We may have a very short swim season and only four teams competing (Omak, Okanogan, Brewster and Methow), but we are producing some great swimmers.
Josiah Lamb, 17, who will be a senior at Omak High School this fall, recently was contacted by California Baptist University regarding his swimming prowess.
Lamb was to head south on Sunday, July 14, for a swim camp and tour of the campus this week.
He is the son of David and Stephanie Lamb.
The Omak Middle School competitors have returned from the National Junior High School Finals Rodeo put on June 23-29 in Gallup, N.M.
Washington State junior bull riding champion Wyatt Covington won the second round of bull riding with an 83 and advanced to the final day's short go, where he was bucked off.
"Everyone kept telling him he drew the bull to win it on," his mother, Lori, said. "Sadly, he bucked off at five seconds. So for winning the second go of bull riding he won a buckle and a scholarship from Boot Barn and a Junior Nationals horse blanket."
Covington also won another scholarship from Boot Barn for the highest score of the week. He placed eighth in the nation, which earned him another national's blanket.
Oliver Williams and Chantz Popelier competed, but did not play.
Williams competed in ribbon roping, tie-down roping, goat tying and chute dogging.
"His horse had a bad week and he had some bad draws," Lori Covington said.
Popelier competed in goat tying and breakaway roping.
All three are members of the Okanogan County Rodeo Club.
Senior Taylor Kramer from Okanogan, along with junior Philip Williams and freshman Cayden Diefenbach from Omak, competed at the 34th annual Silver State International Rodeo competed July 2-6 in Winnemucca, Nev.
Kramer finished third in the first go of team roping and came back for the short go.
Williams, who competed in team roping and tiedown, and Diefenbach, who competed in barrels, breakaway, poles and team roping, did not place.
Nico Avena and Shjon Balauro, who will be freshmen at Omak High School this fall, will be playing soccer in the National Premier League Champions Cup 2013 next week in Denver, Colo.
Avena and Balauro, who both play midfield, are members of the U14 Wenatchee Fire.
The Fire opens round-robin play July 18 against St. Louis Scott Gallagher from Illinois before playing Friday against Chicago Fire Juniors from Mississippi and Saturday against Pro Soccer Academy from Maryland.
A check Monday morning found Shane Proctor, formerly of Grand Coulee Dam, had edged into third place in the Professional Rodeo Cowboys Association all-around standings.
Proctor is listed with earnings of $54,556, a mere $206 ahead of fourth place.
Proctor also moved into 12th place in bull riding with earnings of $44,138.
The Top 15 at the end of the season qualify for the PRCA Finals Rodeo in December.
Proctor's brother-in-law, J.B. Mauney of Mooresville, N.C., took the bullriding championship at the Calgary Stampede with a score of 91.5 aboard Bombs Away. It was the same bull that Proctor rode to the title two years ago.
Mauney, who won $100,000, is the first-ever two-time bullriding winner. He won his first title in 2009.
Water levels remain high and fishing has been great at the Conconully lakes for kokanee and large carryover trout, Gene Bussell of Liar's Cove Resort said.
"We have had great reports of our fishermen going out and catching their limit in 30 minutes to an hour," he said.
Marcus Hamel of Milton caught a one pound, 11-ounce triploid that measured 18 inches using red, white and blue Power Bait nuggets.
"We had another young man catch three triploids off our dock at 8:30 p.m. and his granddad said they were still cleaning fish at 10:30 p.m.," Bussell said. "He said all three fish were over 18 inches long."
Salmon colored Wedding Rings have been working well trolling, Bussell said.
"We have fishermen also trolling real slow for kokanee using pop gear and worms."
The Grand Coulee Junior will be July 20-21 at the Ridge Rider's Arena, 22209 Alcan Road.
Rodeos start at 10 a.m. each day.
I found a neat website to learn about rodeos, http://ewjuniorrodeo.org/Schedule.html.