Wednesday, July 24, 2013
/lk
Shane Proctor, a Lake Roosevelt High School graduate and 2011 World Bull Riding champion, got a little practice in the Stampede prior to possibly coming to the Omak Stampede next month.
Proctor has signed to compete in bulls, bareback and bronc riding at the Omak Stampede on Aug. 8-11.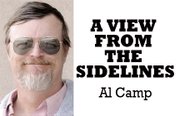 But first he competed in the same three events at the Snake River Stampede last week in Nampa, Idaho.
He got under way with an 86 during a Professional Bull Riders event July 17.
He did not place in the top scores for the Professional Rodeo Cowboys Association portion of the rodeo, although he scored a 74 in bull riding July 19.
Proctor is ranked fourth in the PRCA all-around world standings ($54,771), 12th in the bull riding standings ($44,353), No. 43 in saddle broncs ($12,763) and is not in the Top 50 in bareback.
In Professional Bull Riders Built Ford Tough world standings, he is ranked No. 6 with earnings of $175,771.03 and a ranking of 5,449.25 after 15 events. He's ridden 20 of 48 head this year (41.67 percent).
"I've been lucky enough (the PRCA and PBR) both work with me a lot," Proctor said in a story with the Santa Cruz Sentinel. "Scheduling is the most important part. I have to stay on top of it, because I have to put PBR first. But the PRCA rodeos, I love going to the (National Finals Rodeo), so that's my goal every year."
The newspaper was so impressed by Proctor, who now lives in North Carolina, it wrote a story led by his being the "Toughest Cowboy" in PBR and PRCA.
The story opens by telling how Proctor has a bull named for him.
The bull was one that knocked him unconscious while he was competing at a rodeo for Northwest College in Powell, Wyo., The Sentinel said.
The bull, K24, rolled forward, jerked Proctor down on his head and knocked him out.
As Proctor lay unconscious on the ground an announcer asked, "Somebody go get a doctor for Proctor."
That is how K24 was renamed Dr. Proctor.
"I was honored to have that bull named after me, because he ended up being the reserve bucking bull of the year, the next year," Proctor said. "He was just a remarkable bull."
Riding rough stock has been tough on the former Raider football player and wrestler. He shattered his left arm on his last ride at the NFR in 2011 and has broken a foot and ribs on three different occasions.
"That's just part of the game," he said. "When you're first learning, when you first get stepped on, that's when you're going to decide if you're going to be a bull rider, or not. Luckily for me, my dad, my whole family, they're pretty tough characters and they hate losing."
His latest injury occurred July 9 in Calgary when he tore his right rotator cuff.
Doctors told him he would need to take time off in order for it to heal.
"We're in the prime of our time, this is when we got to make all our money," Proctor said after quickly returning to action.
So it's no surprise that in 2008 Proctor was the winner of the second season of "Toughest Cowboy," a reality television show that aired on Fox Sports Network.
As part of the show, the cowboys involved made 10 different stops across the United States and had to compete in bareback riding, saddleback riding and bull riding at each stop.
On the last stop, they had to do each rough stock event twice, a total of six rides.
"That's nothing, you just got to be in shape to do it," Proctor said. "We're all professional athletes and we take this job seriously."
If you find yourself wanting to be in a television show about bears, Chris Morgan of Wildlife Media could use you during filming Saturday, Aug. 17, in Bellingham.
"As many of you know, we are in the final editing stages of our feature-length documentary, BEARTREK, and will be applying to film festivals this autumn," Wildlife Media Associate Producer Darcy Riggins-Schmidt said. "We've decided that a very powerful element of BEARTREK will be having Chris introduce each of our four locations, as transitional storyline elements in the film — on a stage, sharing his passion with a live audience."
Expect to stay for three hours in the afternoon as cameras reposition and there are lots of starts and stops to the filming.
"It'll require some patience, but we promise you an interesting afternoon," Riggins-Schmidt said. "It's a chance for you to be involved, behind the scenes in the making of the final touches of BEARTREK the movie, that we're so proud of."
There is no cost, but you have to sign-up early so they know how many are coming.
The tentative schedule is starting at 2 p.m. and working for about three hours.
The full address for signing up is: http://www.evite.com/
event/00E2CIYTSQFRC4CHKEPC6F76FDFOPA?utm_source=other_email&utm_medium=email&utm_content=text&utm_campaign=host_conf
A 90-second BEARTREK trailer is at http://www.wildlifemedia.org
The Washington Officials Association recently named Geoff Miller of Omak the high school boys basketball official of the year.
Past yearly members from Okanogan County since the inception of the award in 1999 include Shirley Bowden in 2004 for softball, Marty Palmanteer in 2008 for volleyball and Gordon Pitts in 2010 for girls basketball.
Wade Gebbers of Brewster was one of six Whitworth University men's basketball players recently earning Honors Court academic honors from the National Association of Basketball Coaches.
Whitworth's team earned an Academic Excellence award with a cumulative grade point average of 3.51.
The Pirates were one of two schools from the Northwest Conference to make the list.
Gebbers was a senior majoring in business management, Sports Information's Steve Flegel said.
Whitworth went 26-4 in 2012-13 and won the Northwest Conference regular season championship for the fourth straight year with a record of 14-2. Whitworth earned a seventh straight trip to the NCAA Division III tournament where the Bucs advanced to (at least) the round of 16 for the fifth time in school history.
Jake Johansen recently was named the head football coach at Brewster High School.
Johansen, an assistant the last three years, takes over from Mike Don, who returned to western Washington to be the head coach at class 3A Meadowdale.
Don coached at Lynnwood in 2010-2011.