Wednesday, June 26, 2013
/lk
Children's taste buds must have changed a lot, even in the past 15 or so years since our son was young.
Either that, or they're saying they like certain foods because of the lure of winning a pretty big prize: dinner at the White House.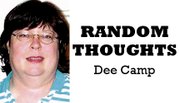 A news release from the White House says 54 children will attend a "State Dinner" in July with First Lady Michelle Obama as winners of a nationwide "Healthy Lunchtime Challenge" contest offered by Obama, the departments of education and agriculture, and the Epicurious cooking website.
I might have deleted the item, except a youngster from my hometown, Woodinville, was a winner with "Nummy No-Noodle Lasagna." (Lest people condemn me for my hometown, Woodinville was considered "in the sticks" back then and not a trendy suburb of Seattle. I haven't lived there for more than 35 years.)
Disclaimers aside, the details of 10-year-old Amber Kelley's recipe weren't released, but I'm guessing it probably had slabs of zucchini or some other vegetable instead of noodles. It might even be good, but I can't quite imagine a 10-year-old getting excited about any sort of dish without pasta.
The contest's premise was to highlight healthy, delicious meals "that kids everywhere will love," Obama said. It's part of her Let's Move initiative to help solve the problem of childhood obesity.
Entries had to present each of the food groups — fruits, vegetables, whole grains, lean proteins and low-fat dairy — with fruits and vegetables making up roughly half the plate or recipe.
The contest drew more than 1,300 entries. I commend her efforts, but am a little skeptical of some of the winning recipes: Alaska Ceviche with Mango, Pork and Tofu Lettuce Cups, Veggie Barley Salad with Orange Honey Vinaigrette, Lentil Spinach Soup and Mint Chutney, and Yummy Eggplant Lasagna Rolls.
Most of the adults I know probably wouldn't eat raw fish, lentils or eggplant.
And the kids? Well, let's just say that I know blue box macaroni and cheese is supposed to be on the frowned-upon list, but try telling that to a 7-year-old.
Rather than whipping up a batch of ceviche, I think youngsters and their parents are more likely to whip out a jar of peanut butter and a loaf of squishy white bread – even in our health-conscious society.
Dee Camp is a reporter at The Chronicle. She can be reached via email at dcamp@omakchronicle.com.