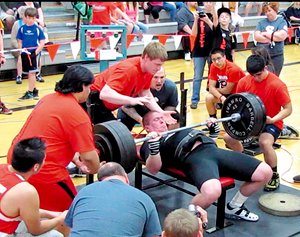 Wednesday, May 8, 2013
/lk
SHELTON – Omak High School's Xtreme Powerlifting Club returned with five state champions and set a ton of state records at the Washington State High School Powerlifting State Meet on May 4.
State champions include Beckah Thomason, Shawnee Covington, Jacob Cutrell, Brandon Zaragoza and Matt Thornton.
This is by far the most champions for the three-year-old club, which competes with all other state schools on an even level, coach Jordan Lesamiz said.
The boys team, which was two lifters short of a full team, finished third. The club sent five girls to state, too few for a team score.
Dylan Green was the only previous champion for the club, winning two titles before graduating last year.
Lifters compete February through May, but train year-round after school with weights while also learning about nutrition to produce muscle, Lesamiz said.
Thornton, a 280-pound senior competing in the unlimited class, is the state's strongest pound-for-pound high school lifter after setting several records.
He finished with a total of 1,670 pounds compiled in squat, bench and dead lift.
The total shattered the previous state record for a heavyweight of 1,600 pounds and the state record for any weight was 1,625.
"So Matt is the strongest kid to have ever lifted in the state of Washington at any weight class," Lesamiz said.
He tied Cutrell for a state record squat of 585 pounds and shattered the state record for the bench press by 55 pounds at 465. The previous best bench was 410.
"He had some huge lifts," Lesamiz said, who said a ratio of weight to total lift is used to determine the strongest wrestler of a meet.
"He broke the state bench press record his first attempt," the coach said. "He broke his own record two more times."
Lifters get three attempts in each event.
Thornton with Lesamiz plans to compete in national events later this summer.
The coach chuckled telling how Thornton and Green used to train together, with Thornton now owning the record total between them.
"For bragging rights, he wanted to beat Dylan," Lesamiz said.
"We have a lot coming back next year," the coach said. "We are going to be considerably better next year. We will have more strong kids. But there will only be one Matt Thornton."
Covington, a junior at 148 pounds, finished with 790 pounds.
She set a state record of 210 in the bench press, breaking the old weight record of 185 pounds.
"Only one other girl in the history of state power lifting did more than she did on Saturday," Lesamiz said.
The Top 10 boys and Top 8 girls in the final rankings were invited to state.
"We did remarkably well," Lesamiz said.
Thomason, a senior and one of the original lifters to start the club, finished with a total of 680 pounds in the 123-pound class.
Cutrell, a junior at 198 pounds, finished with 1,360 pounds.
He was awarded the biggest squat due to weight less than Thornton after they both did 585 pounds.
Zaragoza, a junior at 242 pounds, finished with 1,280 pounds.
"The numbers for Jacob and Brandon don't tell the whole story," Lesamiz said. "They both will be 1,600-pound lifters next year."
Other lifters:
Russell Daffern, sophomore, fourth at 165 in his first year lifting.
Dustin Thorp, freshman, sixth at 165, considered the toughest weight at state.
"For a freshman to place that high is great," the coach said. "He will eventually be a state champion."
Sumo Sandoval, senior, seventh at heavyweight.
"He plans to come back and help me coach," Lesamiz said.
Kellie Foth, sophomore, tied for third at 132 in her first year lifting.
Chase Miranda, freshman, fourth at 114 despite weighing only 88 pounds.
"When he is a senior he could still be in that 114 class," Lesamiz said.
Yurian Gaytan, junior, was on track for a Top 5 finish at 198 pounds when he scratched on the bench press.
Shyanne Hoffman, junior, third at 97 pounds in her first year.
Brooklyn Velasco, senior, sixth at 148 pounds.
She was one of the team's leaders and helped start the program, the coach said.