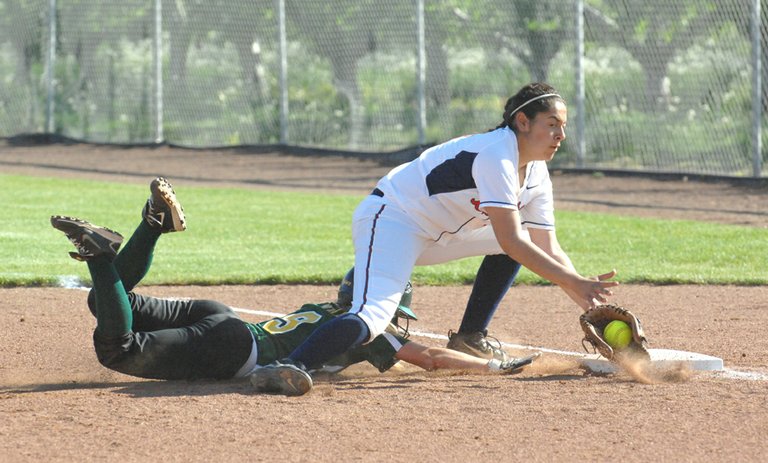 BREWSTER — The Brewster High School softball team took an inning to warm up before burning Quincy, 22-2, in a loser-out, five-inning district game May 7.
"We hit the ball well, we played pretty good defense," Brewster coach Rick Miller said.
Brewster (15-6) was to play Okanogan (17-3) on May 11 in Chelan. The Bears will have several routes that can lead to the District 6/7 tournament against Northeast 1A League teams for Saturday, May 18, at Brewster.
"Okanogan got us twice during the season," Miller said. "They were pretty good games. Theoretically, I think we are pretty close."
Cascade (19-1) was to play Chelan (11-9) in the other district semifinal on Thursday.
Three of the four teams on Thursday advance.
Quincy struck first on Tuesday, pushing across 2 unearned runs in the top of the first inning before shutting down the top of the Bears lineup in the bottom of the first.
"I am not sure we were ready to play when the first pitch was pitched," Miller said. "We played pretty good defense after that."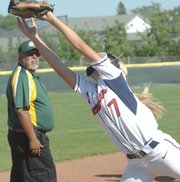 The defense included a couple sterling grabs by MacKenzie Harmier at third base and right fielder Fanny Martinez throwing out a runner at first base.
Markie Miller struck out 5 and walked 3 while giving up only 3 hits and no earned runs.
At the plate, Janet Carrillo knocked out a double and triple with 3 RBIs and Jessie Hammons finished with a double and 4 RBIs.
Harmier was 3-3 with a double, 3 RBIs and scored four times, Lesli Carrillo was 2-2 with a double and 3RBIs and Nykia Mariscal was 2-2 with 2RBIs.
"It was pretty much get a hit and run around the bases," Miller said of the game.
Brewster (22) – Hammons 2-3, 2 2B, 3R, 4RBI, SB; Terrones 1-1, 2R; Sonneman 1-2, R; Miller 2-1, 2B, RBI; Leaver 2RBI, SB; J. Carrillo 2-3, 2B, 3B, 3R 3RBI; Harmier 3-3, 2B, 4R, 3RBI; L. Carrillo 2-2, 2B, 2R, 3RBI; Mariscal 2-2, 3R, 2RBI, SB; Churape 2R, RBI; Burgett 1-2, 2R, 1RBI, SB.
MANSON – Pateros wrapped up the regular season undefeated in the North Central 1B/2B League after pounding Manson, 20-1, on May 7.
The Nannies were 15-0 in league and 17-3 overall.
"Not too shabby for a 1B school playing in the 2B league," Pateros coach Sheri Mortimer said. "I am very proud of the girls. I see us getting mentally stronger every game and having fun playing the game. Defensively we are solid."
Pateros was to play Waterville at 3 p.m. Tuesday, May 14, at Bridgeport with the winner advancing with a No. 1 seed to regionals May 17 at Ellensburg. Two teams from regionals earn berths to the 1B state tournament May 24-25 at Gateway Sports Complex in Yakima.
"The Manson Lady Trojans knew they would have to dig deep to be competitive against Pateros, the number one team in our league," Manson co-coach Janice Stewart said. "It was a short three-inning game with Manson scoring only one run in the third inning."
Oroville (3-15 overall, 2-11 league) was to play Manson (1-13, 0-13) in a doubleheader Thursday, May 9, with a postseason berth on the line.
"If we can win both games we would qualify for a spot in district play," Stewart said.
COULEE DAM – Bridgeport finished second in the North Central 2B League play after knocking off Lake Roosevelt, 10-3, on May 7.
"This was one of our best defensive games of the year," Bridgeport coach Mike Striggow said.
Lake Roosevelt had base runners every inning, but could only score once in the first and twice in the seventh.
The Nannies (12-7 overall, 9-3 league), who reached the postseason for the first time in five years, were to play either Oroville or Manson at 4 p.m. Tuesday, May 14, at Sterling Sportsplex in East Wenatchee.
Bridgeport, which had 9 hits, was paced by the 2 hits each of Alex Martinez, Anita Velazquez and Marie Hourie.
OROVILLE – Liberty Bell took a 24-3 road victory over Oroville in league play May 7.
The Hornets were to play Manson on May 9 with one of the teams advancing to postseason play May at Sterling Sportsplex in East Wenatchee.
PATEROS — Pateros blasted Bridgeport, 17-0 and 15-0, on May 6.
The doubleheader originally was scheduled for May 11.