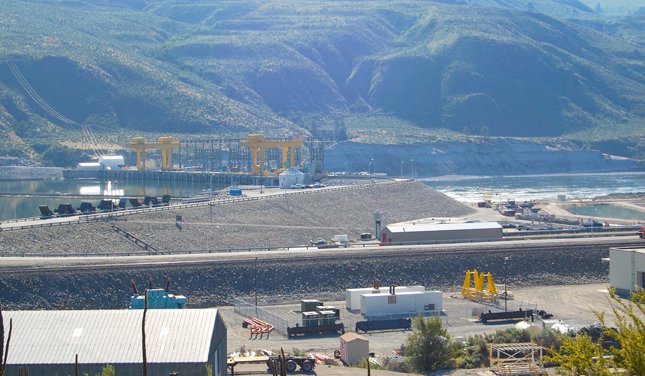 AZWELL — The Douglas County Public Utility District will celebrate its 50-year relicensing for the Wells Hydroelectric Project on Tuesday, May 14.
At 1:30 p.m., the utility will host a party with cake, speeches and tours of Wells Dam, 28905 U.S. Highway 97.
The new license comes from the Federal Energy Regulatory Commission, the agency that issued the first 50-year license in 1962 before the dam was built.
"I'm just very pleased that we were able to complete the process successfully and receive the license in November, and we're happy to celebrate that event now," General Manager Bill Dobbins said.
Although the old license expired May 31, 2012, and FERC had to issue a one-year license extension, the utility submitted its final relicensing application in May 2010.
"My understanding was there was a staff workload problem that kept them from completing it sooner," Dobbins said.
In that two-year stretch between the application submittal and relicensing approval, other agencies were given time to do reviews and analyses, and submit reports to FERC, he said.
The application process cost the utility more than $9.8 million, spokeswoman Meaghan Vibbert said.
All told, getting the new license took about 7.5 years, she said – two years of preliminary work and 5.5 years for the official application process.
The Wells Project generates about 840 megawatts of electricity, the utility said. In addition to Douglas County communities, Wells Dam provides power to the Okanogan County Public Utility District, the Colville Confederated Tribes, Portland General Electric Co., Puget Sound Energy and more.
The dam is about 8 miles south of Pateros on the Columbia River.
Celebration RSVP may be directed to Vibbert at 509-881-2221 or mvibbert@dcpud.org.