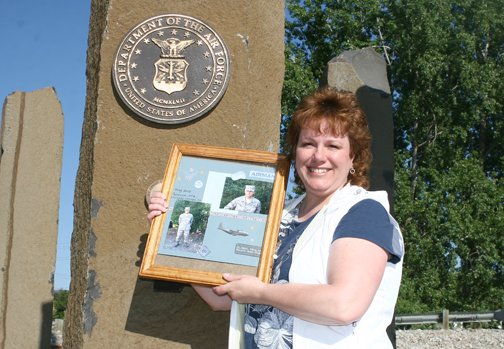 OROVILLE — A common theme among women with children in the military is their overwhelming sense of pride.
But that pride is tempered by the dangers of a world so often at war.
Daralyn Hollenbeck remembers conflicting emotions when her son, Josh, joined the Air Force in 2005.
"He felt it was his calling to be part of something greater and to do a greater good," the Oroville resident said. "That part of it made me really proud, but it's also mixed with fear. How do you put those two feelings together and live with that every day?"
For several years, Hollenbeck, 54, coped with the stress in her own way. With her son-in-law also enlisted in the Air Force, she said it always seemed like one of her family members was deployed overseas.
"Nobody can understand what it's like being the mother of a soldier unless you are a mother of a soldier."
Julie Conkle
She fielded phone calls in the middle of the night with trepidation. Like many military mothers, she learned to avoid watching the evening news on television.
In 2010, she founded the North-Central Washington chapter of the Blue Star Mothers, a support group solely for women with sons and daughters in the Armed Forces. In its relatively short lifespan, the local organization has helped dozens of women across the state.
"Nobody can understand what it's like being the mother of a soldier unless you are a mother of a soldier," Tonasket resident Julie Conkle said.
The group hosts monthly support meetings that rotate among Oroville, Tonasket and Omak. Conkle, 49, said those meetings allow mothers to vent their anxiety. For her, having an outlet for her concerns allows her to be more upbeat, particularly when she talks with her son.
It's more than just a support group, vice president Georgie Barry said.
Blue Star Mothers puts out a Hometown Heroes calendar every year as a fundraiser. The money raised helps mothers in need in a variety of ways.
Blue Star Mothers members also are active in a number of parades, send care packages to soldiers stationed overseas and send gifts to the children of soldiers during Month of the Military Child in April. Members also have been supporters of the U.S. Armed Forces Legacy memorial in Tonasket, which will be the site of a dedication ceremony on May 18.
"It's a great way of bringing in the community," Barry, from Tonasket, said.
Hollenbeck said the group has about a dozen active members and she estimated 60 mothers from various parts of Washington have reached out to the group because it is currently the only active Blue Star Mothers chapter in the state.
Hollenbeck said what she's discovered in the military moms is a group of strong, outspoken, impressive women.
"I've heard it said that warriors come from warriors," she said. "To be the head of a group of women like that is very rewarding."
Barry, who will celebrate her 51st birthday on Mother's Day, credited Hollenbeck's leadership for the group's success.
"She's a very special person and I'm extremely glad she started this group," Barry said.
"I was surprised to find it."
Kathy Bryson is a military mother who said she didn't realize there was an area chapter. Her situation is somewhat unique in that her husband, Joe, was the one who was deployed while her son was in high school.
When her son, Jon, decided to enlist after graduation, she was already familiar with the procedures and the military terminology.
"I wasn't as stressed out as some other moms may be," said Bryson, 47. "For us, we've just been really proud of him that he's decided to serve our country."
Now, watching her son become a father, she knows how tough it is on families.
"We have a whole new appreciation for military families," she said.
Barry said it took her years to realize the benefit of a social network that understood exactly what she was going through.
"I really did go a long ways without it, but I am just thankful now that I have it."