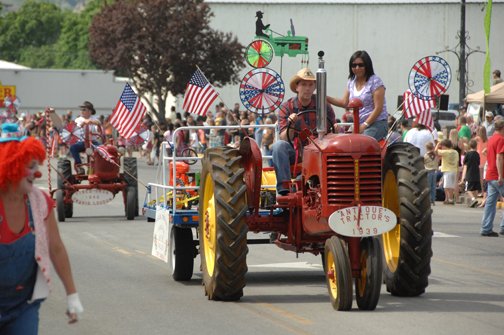 Originally published May 15, 2013 at midnight, updated September 26, 2013 at 1:09 p.m.
/lk
OROVILLE — Close to 100 entries found sunny skies and receptive crowds during the May Fest grand parade Saturday, May 11.
"I'm always amazed by the amount of entries we get for our little parade," spokeswoman Shay Shaw said. "I think everyone has a good time and we really appreciate them."
Winners were:
Queen's choice – Eighth-grade royalty.
Best float – Third- and sixth-grade royalty.
Royalty – 1, Seventh-grade royalty. 2, Junior class royalty. 3, Eighth-grade royalty.
Senior school – 1, Junior class royalty. 2, Tonasket High School band. 3, Oroville High School band.
Junior school – 1, Seventh-grade royalty. 2, Eighth-grade royalty. 3 (tie), May Pole Dancers and Oroville Elementary School band.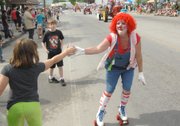 Community youth – 1, Madeline West, Spokane (girl on stilts). 2, Border Patrol Explorers. 3, Head Start.
Mounted royalty – 1, Tonasket Founders Day Queen Karlie Henneman. 2, Okanogan County Junior Rodeo Queen Trinity DeJong. 3, Okanogan County Fair Queen Menze Pickering.
Horse unit – Oroville Trailriders Association.
Community – Best community, Masonic Lodge train. 1, Masonic Lodge. 2, Oroville Garden Club. 3, The Nourishing Hand.
Church – 1, United Methodist Worship Band.
Cars/boats – 1 (tie), Bob Pelligrini, Dodge Viper, and Ron Wisener, 1948 Dodge. 2, Wisener family, 1951 Dodge. Dugan Henderson, 1930 Ford.
Tractors – Best tractor, Jerry Milholland. 1 (tie), 1939 Massey Harris driven by Travis Loudon and 1939 Flag tractor driven by Jim Barker. 2 (tie), Farrari driven by Lamar Wolley and 1948 C Allis Chalmers driven by Chris Slivenson. 3 (tie), 1948 Farmall driven by Rodney Mellentine, 1948 Farmall driven by John Glover and 1955 Farmall driven by Dan Gerth.
Law enforcement – 1, Border Patrol. 2, Customs and Border Protection. 3, Okanogan County Search and Rescue.
Commercial – Best commercial, P&D Beer Wagon. 1, Art's Drive-in. 2, Gold Digger. 3, Discount Fireworks.