Wednesday, May 15, 2013
/lk
This is not a concert review, but it is going to talk about the Okanogan Valley Orchestra and Chorus productions.
I am thinking of the small army of people involved every time a show is given.
Mentioned in print and publicity, but never appearing onstage is the director, who is involved in all of it as the show emerges from concept to finished product. It must be terribly taxing work.
Judy Johnston has been doing it here for some years, and her deft touch has led to many a fine production.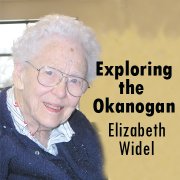 Mention has been made of Susan Graves and her corps of people who perform miracles to costume every show. They go to their sewing machines and make alterations on costumes from former shows or create new ones for the current one.
They have dozens in reserve to use as is or alter to suit the show so we see people garbed appropriately for the current topic.
The plays touch many periods and locales, and the costumers meet them all.
Also hard at work are those who build the sets.
Again, they may have a bank of props and scenes used in other productions, but these change with every presentation.
Additionally, there are several required for each different show, and they have to be changed from scene to scene and production to production.
Omak has worked out a system of putting them on wheels and using both sides of a set, and the orchestra plays a musical cover while those on stage deftly swing the next one into position.
Also at work and alert are those on the lights, who have to produce a setting appropriate to the scene. Already some of the ropes on these have had to be changed because of wear.
The people producing these marvels of setting never appear in a production, but their work does. They may get a mention in the program, but what would the show be without them?
There also are those who do the managing: Selecting the works to be presented, taking care of publicity and all the attendant costs.
When Doug Wood worked in this position, he was astonished at the royalty costs (and how high they were) for using a given work. These people also may be the ones who order needed supplies, all the way from lumber for sets to thread for costumes.
And there are the stores who obligingly sell tickets ahead of time without any compensation for doing so.
"It's a way I can help," one of them said.
Many times, at the conclusion of a performance, while the cast is taking curtain calls to the acclaim of the audience, those on stage point to the orchestra, which has faithfully accompanied the stage performance. It's a generous thing to do.
And someone who does not get even this brief recognition is the practice pianist, who accompanies rehearsals through the long string of putting the show together.
In a way, an OVOC production is a community effort in which non-professionals join in the effort to bring out a production. Whom have I missed? There's sure to be someone.
And so, people of the community join forces in their several ways to bring out a stage presentation. They do it well.
They, both on and off stage, and we of the community are greatly enriched because of what they do.
Elizabeth Widel is a columnist for
The Chronicle. This is the 2,835th column in a series. She may be reached at 509-826-1110.