Wednesday, May 15, 2013
/lk
TONASKET — Eight years worth of hard work and fundraising will be celebrated this weekend with a dedication ceremony of the U.S. Armed Forces Legacy memorial.
"We've had some setbacks along the way, but the ideas have come through and the money has come through," said Roger Castelda, president of the U.S. Armed Forces Legacy. "We're proud of it and I'm glad it's completed."
The ceremony will start with a parade at 11 a.m., followed by the official dedication at noon at the memorial, 1 Tonasket Shop Road.
It brings to the community a sense of Americanism.
— Roger Castelda
The ceremony will feature the national anthem by Kim Harriman, a fly-over and air show by a World War II fighter plane and two guest speakers with area ties.
The guest speakers will be Capt. Alan Walker, from Curlew, who graduated from the Coast Guard Academy in 1970 and retired after 28 years in the service, and Lt. Commander Allen Willey, a Tonasket High School graduate who went on to spend 26 years of active duty as a U.S. Navy civil engineer.
The finishing touches were recently completed at the memorial, with the final cabinets installed Monday.
Castelda said it was well worth the time and effort that it took to reach completion.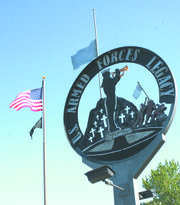 "First of all, it brings the community closer to the veterans and the community sees who served, when they served and what awards they received," he said. "It brings to the community a sense of Americanism."
The memorial honors both living and deceased veterans, as well as those currently serving in the Armed Forces.
The project also received a great deal of support from private donors.
It began in the fall of 2005 on land that the city of Tonasket had received from the state Department of Transportation.
"It was rocks and weeds, you wouldn't believe this piece of ground," Castelda said of the small plot of land.
The Armed Forces Legacy struck a 99-year lease agreement for $10 with the city of Tonasket for rights to the land.
Castelda said now that the project is completed, the organization will funnel money raised back into the community through scholarships or money for schools.