Wednesday, May 15, 2013
/lk
It seems like only yesterday that the Okanogan County Public Utility District said it had to raise rates in order to stay solvent.
In reality, that was about four years ago. At the time, three years of consecutive rate increases were proposed to get the utility back on safe financial footing.
A new rate structure helped mask the true costs of the increase.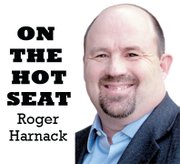 Utility customers cried foul as the general manager and utility employees got hefty raises while losing ratepayer money.
But utility officials, led by General Manager John Grubich, assuaged our fears, telling us the rate hikes would stabilize the district.
So, imagine my surprise when the utility district announced two weeks ago that its consultant believes it should raise rates 26 percent more — 13 percent each of the next two years.
Am I the only one who's counting? Where is the outrage over a proposal that would leave our electric bills a minimum of 45.5 percent higher than they were in 2010?
I, for one, believe the utility needs to discharge the consultant, renegotiate union contract rates and demand a healthy reduction in administrative salaries.
But taking those steps alone won't balance a budget that's already expected to be over budget by more than $4 million this year.
Utility Commissioner Steve Houston said the utility's governing board was "kind of shocked" by the need for a rate increase. Really, Steve? 
Nobody associated with the utility should be shocked. And neither should ratepayers.
Shame on all of us for being caught off guard. Shame on all of use for not holding the utility district accountable for the way our money is being spent.
It would appear that utility commissioners and ratepayers (including me) are asleep at the wheel, again.
Nothing has changed since the election. Raises continue unabated due to the terms of contracts. The district is throwing money hand-over-fist at Enloe Dam. Then there are the lawsuits over rights of way.
Don't forget the tremendous cost of purchasing wind farm power that won't be necessary here for decades to come.
Why in the world would we think the utility was fiscally solvent?
Let's face it. The utility district has only one new voice aboard a ship that has been taking on water for years. That voice alone isn't likely to be heard over the pounding fiscal waves washing atop the deck.
Getting the utility district back on financial track is going to take a major restructuring.
We ratepayers are going to have to demand employee and manager contracts be reduced. We are going to have to demand to see the raw costs of resurrecting the Enloe Dam power plant versus mothball costs. And we are going to have to demand an end to spending money on Nine Canyons Wind Farm.
But we can't stop there, we'll need to see the raw costs of all the utility projects.
And if we truly want to right the utility district ship before it sinks, we're going to have to be very active in financial oversight of the utility. We have to be ready to change the leadership course if the utility doesn't get its costs under control.
If we are not ready to take those initial steps, then we better be willing to pay substantially more to power our homes.
But since I haven't heard much outcry on the rate increase proposal, maybe we've already decided ... and I didn't get the memo.
Roger Harnack is the editor and publisher of The Chronicle. He can be reached at 509-826-1110 or via email at rharnack@omakchronicle.com.