Originally published May 22, 2013 at midnight, updated September 27, 2013 at 1:02 p.m.
/lk
Rachael Kraske of Omak gave her mother, Cindy, a special present on Mother's Day, May 12.
Rachael, competing for George Fox University, sped to first place in the 400-meter hurdles (1:01.96) in the Saint Martin's University Last Chance outdoor track and field meet.
"We were hoping she could improve her time enough to qualify (for nationals) in one of these last two races of the season," Cindy Kraske said. She exceeded our expectations with an incredible time. It was an amazing Mother's Day present."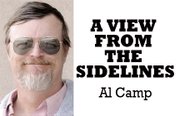 Her time was more than a second better than her previous best (1:03.03) and lifted her into a tie for 10th place in the NCAA Division III standings.
She is No. 1 in the Northwest Conference this year and rose to third all-time for George Fox.
Rachael trails only Alyssa Turner (1:01.53 in 2012) and record-holder Liz Stephens (1:01.29 in 1996).
With only a week left in the regular season, she is all but assured of a spot in the NCAA Division III National Championships on May 23-25 in La Crosse, Wis.
Rachael will run in the national preliminaries Thursday, May 23, and if fast enough, reach the finals Saturday, May 25.
She is the daughter of Will and Cindy Kraske.
Caitlyn Behymer of Okanogan recently committed to play basketball at North Idaho College in April.
"She and Kara Staggs will be playing together," Caitlyn's mother, Debbie, said. "Caitlyn is very excited to continue playing a sport she loves and being able to pursue her psychology degree at the same time."
Behymer is the daughter of Bryan and Debbie Behymer, Okanogan.
The Lady Cardinals finished at 28-5 last season after losing, 67-64, to Williston State College in the first round of the NJCAA National Tournament. NIC was the Scenic West Athletic Conference co-champion.
Behymer and Staggs helped lead Okanogan to four straight state appearances, including winning the state title at the end of the 2011-12 season.
Washington Interscholastic Activities Association named Kaitlyn Grunst of Oroville the 2B female Athlete of the Week last week (week 36) after she finished first in four events at the sub-district 2B track meet May 9 in Oroville.
She won the high jump (5-0), triple jump (32-0) and long jump (15-7.5).
Grunst also was a member of the 4x400 relay (4:32.05) with Sierra Speiker, Callie Barker and Brittany Jewett.
The time propelled the team to No. 7 in state.
Also this spring, Cameron Cavadini of Bridgeport was male Athlete of the Week (week 28) after a complete game, 1-hit shutout over Manson. Cavadini finished with 12 strikeouts and was 3-7 hitting.
Others earning the title since September include Chandler Smith of Brewster and Lily Hilderbrand of Oroville in basketball, Jaqueline O'Keefe and Tulie Budiselich of Liberty Bell in soccer, Speiker of Oroville in cross country, Luke Kindred of Oroville in football and Alex Martinez of Bridgeport in volleyball.
Wade Gebbers of Brewster received a 2012-13 Whitworth University Senior Athlete of the Year award last week.
He shared the award with Jamie Bruner and Kyle Novak.
The Whitworth Senior Athlete of the Year award is voted by the athletic department and recognizes outstanding athletic achievement during a student's final year of eligibility.
Gebbers, a point guard, battled through persistent injuries to earn First Team All-NWC, First Team All-West Region (D3hoops.com) and Second Team All-West Region (NABC) this season.
He led the Pirates to the NCAA Division III sweet 16 for the fourth straight year as he averaged 11.4 points and 2.6 rebounds per game and led the NWC with 95 total assists and 3.5 assists per game. Gebbers made 40.1 percent of his shots from the field, 37.2 percent from three-point range and he ranked among NWC leaders in free throw percentage (85.3).
Gebbers scored a career-high 27 points at Whitman on Feb. 5 and had 23 points in the season-opener against St. Thomas. On Feb. 21, he became the 23rd player in Whitworth history to surpass 1,000-career points.
Gebbers and Mack Larkin retire as the winningest men's basketball players in Pirate history with career won-loss records of 106-13.
Whitworth won its sixth straight Northwest Conference McIlroy-Lewis All-Sports trophy in 2012-13. They will be recognized at the Senior Reflections during this weekend's graduation festivities.
The Okanogan Valley Ducks Unlimited banquet will be 5:30-10 p.m. Saturday, June 1, at the Omak Elks Lodge, 110 S. Ash St.
"There will be great prime rib for a great cause," organizer Nick Martin said.
There will be tickets for several raffles, including a Yamaha 550 all-terrain vehicle. There will be a no more than 150 total tickets sold in Washington and Oregon, senior regional director Bernard F. Brown said.
The drawing will be held June 22 at the state convention in Silverdale.
The winner need not be present, Brown said.
There will also be a Les Schwab three-gun raffle, a DPMS .223 AR rifle raffle and tickets for an elk hunt for two in New Mexico.
Online ticket sales for the dinner end May 31.
You can learn more at http://www.ducks.org/washington/events/31454/okanogan-vallley-du.
In all the hectic pace of covering 11 schools and 50 teams, I somehow let the Republic baseball team slip by despite a winning season and a postseason appearance.
The Tigers fell, 10-3, to Wilbur-Creston in a loser-out game in the first round of the district 1B tournament played May 7 in Hartline.
Aaron Fritts had a double for Republic (11-6 overall, 9-6 league), which finished with 5 hits.
Republic trailed 3-1 after three innings, only to see the Wildcats score four in the fifth to put the game away.
"Hey guys, Big Wally's walleye tournament on Banks Lake is May 18-19 with $10,000 up for grabs for first place, side pots for big fish run around $4,500 each day," Rod Hammons of Brewster said.
"This is a very well-run tourney, but be prepared for wind as it always seems to blow a little this time of year. Call Big Wally's in Coulee City for more info."
As for county fishing, Hammons said the Okanogan River is at flood stage, "so hopefully the river will be low and warm by the opener for salmon on July 1. This stops them from heading up stream. People are booking trips already, so don't wait till the last minute."
This is Hammons' 20th season as a pro fishing guide.
uuuuu
"Fishing has been fantastic at both the upper lake and the lower Conconully Reservoir," Gene Bussell of Liar's Cove Resort said. "Lots of rainbow and kokanee are being caught from the bank and trolling."
On Sunday evening, the fish were being caught on Red, White and Blue Power Nuggets, he said.
"Mic Jensen from Mount Vernon caught an 18-inch rainbow off of the lower bank," Bussell said. "Mike and Marvin Kjellesvik caught their limit trolling with wedding rings."
As of May 18, anglers can fish for and retain adipose fin clipped adult and jack spring Chinook salmon on the Icicle River in Chelan County.
The spring selective fishery season will run through July 31.
The area open for fishing is from the closure signs located 800 feet upstream of the mouth to 500 feet downstream of the Leavenworth National Fish Hatchery Barrier Dam.
Veterans living outside Washington who've been disabled in the line of duty will find it cheaper and easier to hunt and fish in our state, thanks to a proposal sponsored by Rep. Shelly Short, R-Addy.
The legislation, House Bill 1192, will also begin the process of "reciprocity," making it cheaper for Washington's disabled veterans to hunt and fish in other states as well.
"This bill would allow veterans with disabilities in other states to qualify for reduced hunting and fishing license fees here in Washington," Short said. "It would also encourage reciprocity – that is, it would encourage other states to offer the same discounted license fees to our state's veterans. We have veterans with disabilities that would like to hunt and fish in other states; and wounded veterans from other states that would like to participate in those activities here in Washington. I think it's the least we can do for those who have sacrificed so much for our country."
Gov. Jay Inslee signed Short's bill into law on May 1. Constituents and veterans from Ferry County joined Short at the bill-signing ceremony.
How about those Bulldog soccer players?
Okanogan will be returning from Sumner this weekend with a state trophy after defying the odds to get there.
The Bulldogs, the No. 4 seed from District 6/7, blasted No. 1 seed District 4 Rochester, 8-0, in the opening round of state.
Rochester lost in the first round of the state playoffs for the third consecutive year. All four District 4 teams (Rochester, White Salmon, Hoquiam and Seton Catholic) fell in the first round.
That gave Okanogan home field for the next match, a thrilling 4-3 win over University Prep, the No. 3 team from District 1/2/3.
University Prep edged Hoquiam (No. 4 from District 4), 2-1, in the opening round of state.
Okanogan's win over Rochester was the first-ever in state play after losses in opening rounds the last two years – 2-1 to Wahluke in 2011 and 8-1 to Highland in 2012.
With the victory over University Prep, Okanogan is now 14-13 in for- and against-goals in state games.
For those already gearing up for fall high school football, there is a new blog site and report being produced by a name familiar to long-time small school followers – Dave Tuengel.
He is promoting his A & B Football Report, which will be on the 1A, 2B and 1B schools.
"I want to at least give people the opportunity to see what the A's and B's are doing statewide," Tuengel said.
His blog is at http://davetuengel.blogspot.com.
The blog currently lists a tentative roster for the East squad for the 19th Earl Barden Football Classic, set for Wednesday, June 19, at Earl Barden Field at East Valley High School, 1900 Beaudry Road, Yakima.
No players on the list of seniors are from Okanogan or Ferry counties.
Those from the Caribou Trail League shown in the blog include Quincy's Armando Tafoya, an offensive lineman and linebacker; Cashmere's Dylan Tarver, offensive lineman and defensive lineman, and Mahliek Roberts, running back and defensive back; and Cascade's Fabian Alvarez, wide receiver and defensive back, and Derek Darlington, offensive line and linebacker.
The Tonasket Flying Club will celebrate Father's Day with a Fly-in June 16 at the Tonasket Airport.
There will be a barbecue on Saturday. Pilots will be taking children on rides on Sunday morning.