Wednesday, May 22, 2013
/lk
This coming week, flags will be flying as Americans remember their war dead.
But all too often, Memorial Day devolves into a weekend celebration of camping and fishing, boating and drinking.
So, as we head into a three-day break from work and other aspects of our daily lives, it's important that we remember why we have that break.
Memorial Day began as Decoration Day, a day of remembrance of Union and Confederate soldiers killed during the Civil War.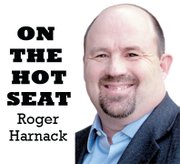 But as the U.S. grew into one of the world's most powerful nations, so, too, did the number of military personnel killed in action while defending liberty and freedom around the globe.
Dedication Day became Memorial Day.
Like most families in the U.S., I have ancestors killed during past wars. And Memorial Day is one way to remember those ancestors who paid the ultimate price for the freedoms my family and yours still enjoy today.
But it's not that family connection that evokes emotion for me on Memorial Day. It's the pomp and circumstance surrounding the remembrance of all who died in action.
Several years ago, I had the opportunity to observe Memorial Day in Washington, D.C. I stood on the lawn at Arlington National Cemetery and watched the somber ceremony at the Tomb of the Unknown Soldier.
At its conclusion, there was a little boy who went up to the tomb and saluted. All he said was "thank you, mister."
And with tears in his eyes, he ran back to his family.
That one statement of gratitude for an an unknown soldier really put the holiday in perspective for me.
Prior to that day, I — like most Americans, I suspect — had viewed Memorial Day as a free pass from work or school.
I had viewed it as a day to go fishing and to the beach.
No more.
It's funny how you can see things differently through a child's eyes.
This Memorial Day while you're enjoying your time off work, take time to remember those who died so you can be out having fun.
Take time to discuss the reason for the holiday with your children.
And never forget that freedom is never free.
Roger Harnack is the editor and publisher of The Chronicle. He can be reached at 509-826-1110 or via e-mail at rharnack@omakchronicle.com.