Wednesday, May 22, 2013
/lk
I finally succumbed to the pressures of modern-age technology over the weekend and bought a smartphone.
It was a change I'd fought tooth and nail, kicking and screaming — and successfully, too — since the first Apple iPhones came out years ago. It wasn't that I even liked my old, piece of junk flip phone that, in case of an emergency, also doubled as a brick if I ever needed to break a window or hit somebody over the head with it.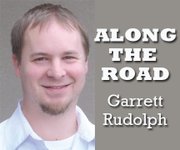 But it was comfortable and familiar. I knew how to turn on the alarm with enough reliability not to oversleep work or an appointment. It was only the slightest of upgrades from my first cellphone — a pair of tin cans attached by a string.
I think on eBay, people pay you to take phones this old off their hands.
I had no fears of it ever being stolen, scratched or sent through the washing machine with a pair of blue jeans. I'd dropped the behemoth at least a dozen times, and even once soaked it unknowingly in a puddle of Gatorade for several hours. The thing was impervious to destruction.
And it wasn't even the sheer age of the phone or its utter lack of technology that influenced me to finally join the 21st century. It was that the battery had seemingly taken on a life form of its own, expanding into the shape of a small football and bursting out the back side of the casing.
You're long past the point of no return when your phone is being held together by three flimsy strips of scotch tape.
I had always contended that I didn't need a smartphone as much as my friends because I'm never that far removed from my laptop or an Internet connection. And now that I have this space-age cellphone The entire experience of upgrading reminded me of a visit to the dentist.
If you do it once or twice a year, it's relatively painless.
But if it's been eight years since you've stepped foot into a cellphone store, there's going to be some bleeding and it might take all day.
Garrett Rudolph is the managing editor of The Chronicle. He can be reached at 509-826-1110 or via email at grudolph@omakchronicle.com.