What would the sporting scene be like without women's sports?
You only need to go back four decades or more to know.
The month of May marks the 41st anniversary of Title IX, which was enacted by Congress and signed by President Richard Nixon in 1972 initially to guarantee equal educational opportunities for women and girls.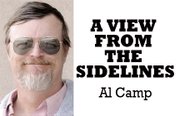 But its impact is best known on female high school and collegiate athletes.
Adding females doubled sports teams and the amount of sports you can follow and enjoy.
This past high school year we got the privilege to watch, among others, Chandler Smith of Brewster display her talents on the basketball court.
She's wowing college scouts all along the West Coast.
Just this week, Catie Arrigoni of Oroville signed a letter of intent to compete in track for Eastern Washington University starting this fall.
Arrigoni, who is the female Athlete of the Year at Everett Community College after competing in track and cross country, used her opportunity also to get a great education.
Caitlyn Behymer and Kara Staggs of Okanogan, who helped anchor the 2011-12 state 1A champion basketball team, will be competing at North Idaho College next year.
Tyler Schreckengost, also on that team, is on scholarship with Wenatchee Valley College.
Katie Wimpari of Curlew is competing in track at the University of Louisville in Kentucky.
There are a ton of females from our region who got an education provided by their sporting talents.
That stretches a long way back.
Theresa Fancher of Omak was a member of the U.S. National Disabled Ski Team and won a bronze medal in the 1998 Paralympics in Nagano, Japan.
Tanya Smith played basketball for three years with the University of Utah in the 1980s.
None of these success stories would be possible without Title IX and the many female athletes who paved the way for today's girls. And today's athletes are paving the way for future players.
I think that is a spinoff many miss from Title IX. Before the law, females did not have equal footing with males when it came to education. With the ability to compete for scholarships, including those from athletics, we have a smarter work force and a better world in which to live.
There will be more success stories in the future.