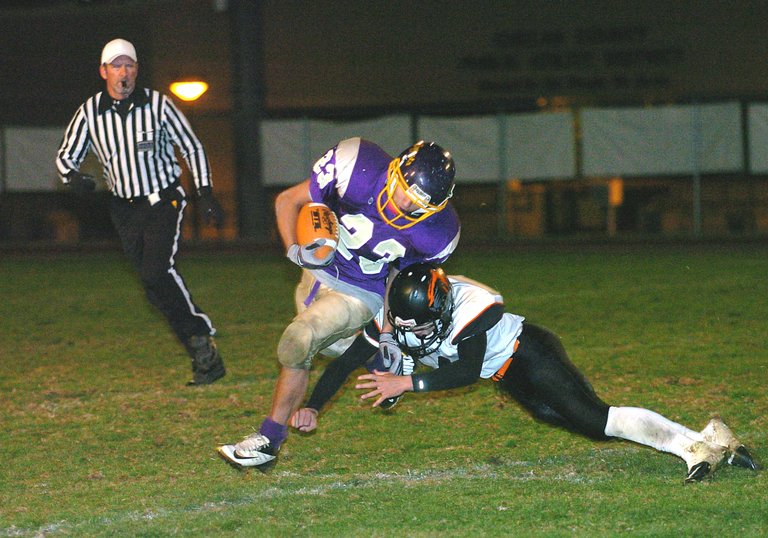 Originally published November 5, 2013 at 11:06 p.m., updated November 7, 2013 at 4:14 p.m.
/lk
CHELAN — Pateros couldn't get its offense on track Tuesday night, falling 12-0 to Entiat in a shortened tiebreaker game.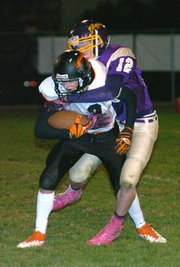 No offense early has "haunted" Pateros all season, coach Marcus Stennes said. "The first halves we just can't get it going."
The Billygoats get to butt heads with a familiar foe, Inchelium-Columbia, at 5 p.m. Friday at Pateros. The game will mark the end of the season for both teams.
Photos from the football game available for purchase at http://omakchronicle.mycapture.com/mycapture/folder.asp?event=1728849&CategoryID=15636&ListSubAlbums=0
"It should be a good game, a bit of a rematch for us," Stennes said. "Last year we both finished third and played each other."
Entiat advances as the No. 3 team this year from the Northeast 1B League-South to play at the north's No. 3 Selkirk in a game tentatively set for Friday, Nov. 8. The winner takes on the third-place team from District 9 the following week.
Pateros looked dismal in the first half of Tuesday's game, which was split into two 12-minute halves.
The Billygoats failed to produce a first down and finished the first half with 6 yards of offense.
Quarterback Mikey Piechalski completed 1 of 9 passes, that being for 8 yards to Carlos Cruz.
Piechalski rushed 3 times for –7 yards.
Also on the ground, Cruz gained a yard on 1 run and Sam Eberhardt gained 5 yards on 1 run.
Entiat scored on passes of 10- and 28-yards.
Pateros looked a lot better for most of the second half, but could not score.
Right off, Dakota Salcido spun out of a couple tackles to gain 34 yards and move Pateros to midfield.
Pateros got to the 27, aided in large part by a 10-yard pass from Piechalski to Lance Evans.
"We had a good little drive there, but we couldn't punch it in," Stennes said.
The next drive Pateros got to the 23, but again could not get any closer.
Entiat ended the game taking a knee twice after getting inside the 10.
For the game, Piechalski was 6 of 19 passing for 48 yards.
"Our passing is where it's at and we couldn't get it going," Stennes said.
Receivers included Evans (2-15), Ricky Cordero (1-8) and Carlos Ceniceros (3-25).
The ground game got better in the second half.
For the game, Eberhardt was 5-45, Cruz 3-10 and Piechalski 4-(-6).
Defensively, Piechalski was all over the field with 12 tackles and a sack.
Zane Salcido (2 sacks), Eberhardt and Dakota Salcido each finished with 7 tackles. Cruz had 6 tackles and Evans 4 tackles.