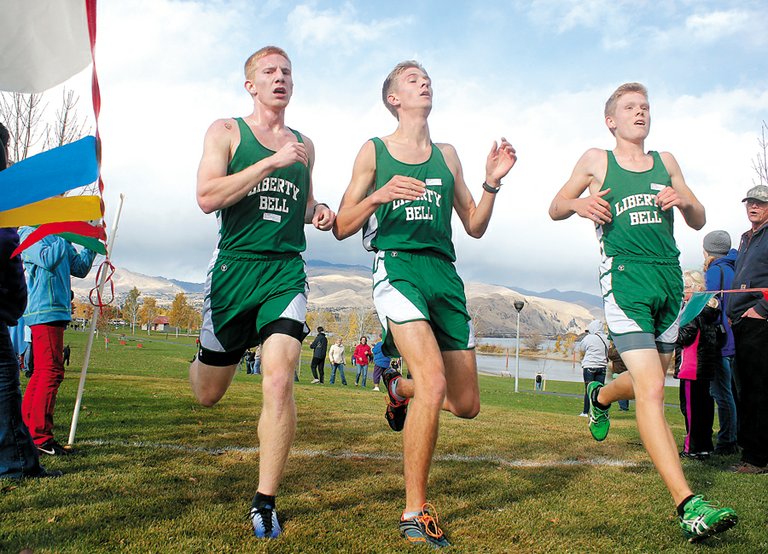 Wednesday, November 6, 2013
/lk
WENATCHEE — Rock, paper, scissors.
After a couple of quick rounds of the game, Ben Klemmeck of Liberty Bell High School grabbed the 1B/2B District 5-6 cross country title Saturday in Walla Walla Point Park.
Teammates Willy Duguay and Liam Daily finished second and third, respectively, in both the rock-paper-scissors game and cross country meet.
The trio crossed the finish line simultaneously, setting up the rock-paper-scissors decision.
"Willy just popped out of nowhere," Klemmeck said of the three-way tie at the finish.
"It was pretty creative," head coach Craig Herlihy said of the rock-paper-scissors decision by his runners. "They've been working hard all year long and picked a goal of making it to state."
Klemmeck, a sophomore, posted a time of 16.56.04 on the course. "I like the pace," he said.
Klemmeck led the Mountain Lion boys to the team title with a score of 23 points. The Lake Roosevelt boys were a distant second with 68 points. Rounding out the Top 6 teams were third-place Bickleton with 75, fourth-place Yakama Nation with 86, fifth-place Bridgeport with 124 and sixth-place Oroville with 123.
On the girls side, only Bridgeport posted a team score – five runners are required to enter as a team.
Junior Letty Trejo led the way for the Fillies.
"We're excited," she said after learning her and all four of her teammates were state-bound. "It's the first year ever for us."
Trejo finished fifth in the girls standings with a time of 22:48.38.
Bridgeport coach John Kessler said he was proud of his runners' efforts to get enough girls out to make a run at state, noting this is also the first year the Fillies have ever sported their own cross country team.
The girls' field was led by Oroville's Sierra Speiker with a time of 17:56.04. Rounding out the Top 4 were Ashley Palmer of Lake Roosevelt with 21:30.85, Rhiannnon Easter of Pateros with 22:19.03 and Alexia Hanway of Lake Roosevelt with 22:47.49.
"The beginning was pretty stressful," Easter said after finishing third. "I was in a pack with Bridgeport and Lake Roosevelt."
Speiker, however, pulled in front at the state.
"It was good," she said of the race and course. "It was definitely better than the first time I ran here as a freshman."
Palmer, a 13-year-old eighth-grader, was more excited about the course, her second-place finish and state berth.
"My coach said he's surprised that I'm passing seniors," she said. "I told him I don't like to be underestimated."
The state cross country meet for all classes is scheduled to begin at 9:30 a.m. Saturday at Sun Willows Golf Course, 2535 N. 20th Ave., Pasco.
Editor's Note: More individual cross country results are available online at www.omakchronicle.com.