Wednesday, November 6, 2013
/lk
Is Thanksgiving on its way to being a forgotten holiday, at least in the eyes of advertisers?
Halloween is big, but Christmas is the 800-pound gorilla in the holiday room.
At 12:39 a.m. Nov. 1, even before all the Halloween pranksters' eggs had dried on cars, a Black Friday promotion from a major online retailer dropped into my email inbox.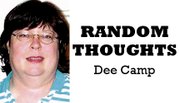 It invited me to get a jump start on my Christmas shopping.
I'll admit, planning ahead can be a good thing, but almost eight weeks before Christmas is just too far ahead.
Thanksgiving is one of my favorite holidays, perhaps more so than Christmas, and I'm not about to let it fall by the wayside.
A whole day devoted to dinner and football, now that's my kind of holiday.
It's also a time to give thanks for the people and freedoms that give meaning to our lives.
Black Friday, on the other hand, has devolved from a time to get out and do a little holiday shopping and check out what's on the shelves to an all-out greed-fest.
People sit for hours outside big box stores in hopes of being the first to grab the latest video game system or snag a flat-screen TV at a huge markdown. They'll mow down their fellow shoppers, get in fights over the latest doll and risk credit card meltdown.
I have a theory, too, that much of what's purchased on Black Friday doesn't go under the tree at all. Although I don't have stats to back it up, I think most of the items are used by the purchasers long before St. Nick visits.
Then there's the alarming trend by some big merchandisers to start Black Friday sales on Thanksgiving, further encroaching on that holiday.
Those stores' workers either miss out on time with their families or have to leave for work before the last piece of pumpkin pie is served.
Most of us have far too little family time as it is.
I don't think I've gone to a Black Friday sale for more than 20 years. I'm not one for getting up in the wee hours to go shopping, especially in the wake of a turkey coma.
When Black Friday finally does roll around, on Nov. 29, I might think about holiday shopping but you won't see me in the stores.
Dee Camp is a reporter at The Chronicle. She can be reached via email at dcamp@omakchronicle.com.