Sunday, November 10, 2013
/lk
Monday brings Veterans Day here and Remembrance Day in Canada, our close neighbor.
The holiday also gives us a chance to remember military duty to our countries.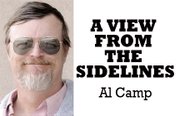 I served in the Air Force from July 1969 to December 1973.
During training that included communication school (that's the official name; it's really about typing and encryption), and we landed on the moon and celebrated Woodstock.
When I got out of the service, I was part of a wave of military exiting Southeast Asia under orders of President Richard Nixon, who was winding down the conflict.
In between, much of what occurred would affect me much more than I knew.
For instance, my first tour was the radar site at Neah Bay.
I purchased a wind-up Kodak camera, which I used while climbing nearby cliffs. The thrill of those first images would stay with me to this day.
I soon landed at the 1981 Communications Squadron in Ubon, Thailand, and was assigned to the communications center for 8th Fighter Wing (now based in Kunsan Air Base, Republic of Korea).
At the height of the conflict, Ubon had more F4 (D and E) fighters than all of South Vietnam. We also had the AC-130 Spectre gunships.
After a tour in the states with the 5th Mobile Communications in Georgia, where I primarily did war games, I returned to Ubon, Thailand.
During my second tour, I purchased my first Nikon camera and produced my first prints in the base darkroom. I was hooked on photography.
Although I received the Vietnam Conflict ribbon, with oak clusters for two offensives (I got in on the tail end of the Tet Offensive), I never set foot in Vietnam. Not everyone in a conflict or war is on the ground and in peril.
I had some problems, but they were self-made. I mean, sneaking to the Laos border to buy cheap scotch or a nearby mountain to view a monastery might have been a dumb idea on hindsight. Everyone worked 12-plus hours shifts, so there were no slackers there.
Above this column is a photo taken with my first Nikon at an elephant roundup, which comes during the monsoon season. The elephants were used to haul logs in the north of Thailand. Rains drive them south, where they are used in the roundup, which also is called an elephant rodeo.
Little did I know I would be covering rodeos for the next few decades.
Al Camp is the sports editor at
The Chronicle. Email him at sports@omakchronicle.com.