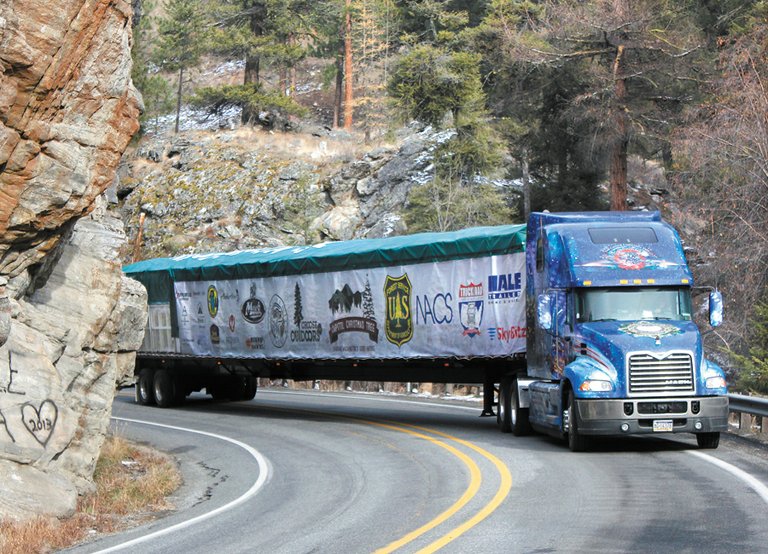 Wednesday, November 13, 2013
/lk
REPUBLIC — A light snow began Thursday as residents and visitors filled the school campus parking lot to celebrate Christmas early.
But they weren't there to greet Santa Claus.
They were there to catch a glimpse of the 2013 Capitol Christmas Tree National Tour and the 88-foot Englemann spruce that will be lighted in front of the nation's Capitol through Christmas.
"I love it," Aleena Maycumber of Republic said cheerfully waiting to have her photo taken with Smoky Bear and the truck hauling the tree cross-country.
Looking down the length of the truck, the 7-year old smiled and said: "Oh yeah, it's big all right."
She wasn't the only local resident excited by the early onset of the Christmas season.
Mayor Jim Burnside said the entire community was "really excited" to be one of the 25 communities where the Christmas tree will stop as it moves from the Colville National Forest to its final home in Washington, D.C.
"It all came together," he said of the massive preparations for the tour to stop in town.
According to Robert Sanchez, a Colville National Forest official who is assisting with the tour, the tree was selected from the district in Pend Oreille County and cut down Nov. 1.
"The Colville National Forest is excited to be a part of the 2013 Capitol Christmas Tree National Tour," he said, calling this year's selection "The People's Tree."
The tree is accompanied by 80 smaller companion trees and 6,000 ornaments, many made by local children, he said.
"For this to occur here in Republic is absolutely amazing," he said.
According to Sanchez, much of the tour is paid for by sponsors.
"Very little taxpayer dollars are afforded to making this happen," he said without saying just how much it cost.
State senator-elect Brian Dansel of Republic called the local tree selection and celebration "phenomenal."
"Look at all the people here," he said. "It's pretty incredible. This is pretty cool."
At the conclusion of the ceremony, Okanogan County Sheriff Frank Rogers and Undersheriff Joe Somday escorted the tour to and through Okanogan County.
"You only get to do this once," Rogers said.
Less than an hour after leaving Republic, the Capitol Christmas Tree National Tour rolled through Tonasket, where several hundred people stood along the school district campus there to catch a glimpse.
The tree is scheduled to arrive in Washington, D.C., on Nov. 25. Once erected, Speaker of the House John Boehner, R-Ohio, will lead a lighting ceremony officially kicking off the Christmas season.