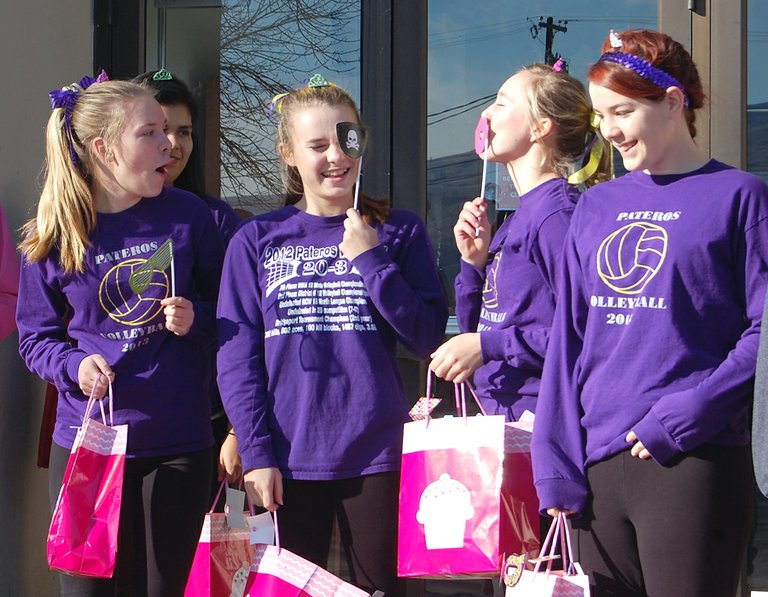 Thursday, November 14, 2013
/lk
PATEROS — The Pateros High School volleyball team received a send-off today to the state tournament that featured high-fives, hugs and goofy gifts from preschool children.
To wish the girls luck and see them off on their way to Yakima, dozens of students, teachers, AmeriCorps volunteers and parents gathered outside the school this morning to cheer and wave.
The team is scheduled to practice at 2:30 p.m. at Riverside Christian. The Nannies will take on Quilcene at 1:30 p.m. Friday at the Takima SunDome.
"We're all looking forward to playing," senior Chloe Gill said. "We're all pretty excited, and our goal is to do better than last year. We got seventh last year, so we're hoping to exceed that."
"Just awfully good," coach Gene Dowers said when asked how it felt to be going to state. "Really, really good. It's a huge advantage to go into state as a district champion. The draw worked well for us, the seedings all worked well. It gives us a great opportunity.
"There's a chance. I feel really great about these kids. They're an amazing group."
The players cheerfully accepted gifts from children with ABC Preschool and Daycare, where senior Jessi Dowers helps out, assistant coach Carlene Anders said.
"They wanted to see her off today," Anders said. "They were pretty excited today to be able to do that. They thought it was the best."
"I'm really happy for them. They had a really great season and this will be a really good finish to it," English teacher Elyse Darwood said.
Bridgeport will also be competing at the state volleyball tournament. It will take on Toutle Lake at 8 a.m. Friday.