Wednesday, November 20, 2013
/lk
Chandler Smith of Brewster signed a letter of intent Monday to play for the University of Nebraska women's basketball team.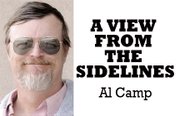 The addition of Smith — a 6-foot guard — who is the No. 62-ranked player in the 2014 recruiting class by ESPN, improved the Huskers' class, which had already been ranked No. 16 in the nation. That's the highest ranking ever for the program by ESPN.
All five players in the recruiting class, including Smith, are rated in the Top 25 at their respective positions in the country by ESPN, a Daily Nebraskan online story said.
"We are excited about the potential of this recruiting class, and we hope all five players have outstanding senior seasons in high school this year," coach Connie Yori said. "We have built quite a bit of momentum in recruiting the past few years, and this class is part of it."
The previous best recruiting class in Nebraska history was in 2010, when the group of current juniors earned a No. 24 ranking.
Mansfield will not field varsity teams this winter, but will be sending a few basketball players to Pateros.
That includes senior Macen McLean, who won three state track events with state 1B records and finished second in another event.
McLean should be healthy and a great asset for the Billygoats.
Mansfield Athletic Director Ric Bayless said school officials met with students and their families to discuss options.
A decision was made to stay in a 1B league, which eliminated students going to nearby Bridgeport.
"We approached Waterville, however with our student count added to their student count, our combination would have moved them to a 2B classification," Bayless said.
Both school boards and the Central Washington 1B League agreed with students going to Pateros
"Now we are in a combine with Pateros for winter sports," Bayless said. "Next year we will be offering a winter sport (wrestling) and hopefully have enough for basketball also."
Mansfield will offer middle school basketball this winter.
Last week, the Washington Interscholastic Activities Association named Shania Graham of Republic the 1B Athlete of the Week.
Graham, a freshman, was the fastest 1B girl at the state cross country meet Nov. 9 in Pasco. She finished the 5K course in 19 minutes, 57.25 seconds, which placed her eighth in the 1B/2B girls race.
"She worked very hard this season and she was a pleasure to coach," Republic coach Ed Forsman said.
"She has great determination and finished in the Top 10 of every race this year."
WIAA each week recognizes a male and female athlete from each of six school size classifications based on an outstanding performance the previous week.
All varsity level students in good academic standing at their schools are eligible to receive the WIAA State Athlete of the Week Award.
Each winner of the WIAA State Athlete of the Week Award receives a letter of recognition from the WIAA executive director, a commemorative WIAA State Athlete of the Week T-Shirt and certificate.
Of note, Republic's Duncan Forsman and Omak's Morgan O'Dell, Sarah O'Dell and Jennifer O'Dell all qualified for the USATF Junior Olympics region 13 championships on Saturday in Monmouth, Ore.
The Colville Tribes Fish and Wildlife is wrapping up its yearly count of spawning Okanogan River Chinook salmon.
Biologists and fish technicians spend six to eight weeks each year conducting aerial and on-the-water surveys to document where and how many fish are spawning in the river.
"This year's run appears to be a strong return, at or slightly above recent averages," said Keith Wolf, project leader for the Chief Joseph Hatchery Science Program. "It will take our staff several months to compile and analyze all the data we collect before we draw final conclusions."
The monitoring of adult fish returns provides managers with key data on fish population status and trends. This information is broadly used for planning artificial production, habitat restoration and other projects.
"These data are shared with state and federal fish and wildlife programs and with Douglas, Chelan and Grant county public utility districts and their natural resource programs," interim anadromous Director Randy Friedlander said.
"We work with our management partners and area stakeholders to provide information on how fish are doing and work cooperatively with federal and state managers."
Kirk Truscott, Colville Tribes Fish and Wildlife anadromous program manager said, "Our professional staff conducts redd and carcass surveys in the Okanogan each year.
"They count redds (a spawning nest made by a fish) and examine carcasses (the expired parents of the next-generation) for a number of biological indicators such as pre-spawning mortality, spatial distribution, abundance, age-at-return and many other key data points.
Pro-West Rodeo Association recently named the Colorama Rodeo in Grand Coulee "Rodeo of the Year" for the second straight time.
The award was announced Nov. 9 during the association's annual awards banquet in the Tri-Cities.
The Ridge Riders put on the rodeo, which is supported by the communities of Grand Coulee ($6,500), Coulee Dam ($5,500) and Electric City ($5,300).
Each town contributes hotel/motel tax revenues to Ridge Riders to promote and for its other activities.
Other events by Ridge Riders include a riding clinic, a ranch rodeo and bullriding.
Al Camp is the sports editor for The Chronicle. Email him at sports@omakchronicle.com.