Sunday, October 6, 2013
/lk
The way high school teams use video to prepare for opponents continues to change.
The most change involves hudl.com, which takes digital video and makes it available online to other coaches, players and fans.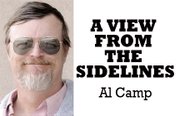 I got wind of hudl.com at an Okanogan game earlier this year when Bulldog sophomore Jacob Appleton, 15, was using a camera on a tall pole to follow the game.
"We took an old flag pole and put it together with the (battery-operated) camera on top," Okanogan coach Erick Judd said. "Lots of people use them, but it was new to us. Every player gets graded (by hudl) on how well they do each game."
Okanogan has been using the exchange since last year.
"We can exchange two films in advance to scout each other," Judd said of league video. "I like it. You don't have to send people out filming all over the state. It's cost-cutting, too. It does cost money to be part of hudl. It's probably a wash."
"The league was supposed to use it, but there's no money paid toward it this year," Oroville coach Tam Hutchinson said. "It's not cheap. It cost about $300, which I guess is not all the much.
"We used to do fine without it by exchanging CDs. I don't think teams miss seeing us on tape. They pretty much know what we are going to do. I have not changed that much in all these years."
Tonasket uses the service, which coach Jay Hawkins said makes it easy to exchange video. Viewers can watch specific plays instead of the whole game, players can watch the video and others can log on to watch games from anywhere.
"I wish it was free," Hawkins said.
Lake Roosevelt uses the service.
"Hudl.com has been very useful for our program," Lake Roosevelt coach Steve Files said. "It allows us to keep all our film (our own and opponents) in one place that we can easily access.
"We use the good ol' fashioned send-a-DVD method," Billygoat coach Marcus Stennes said. "We haven't upgraded to hudl yet and most likely won't for a while."
We've come a long ways since I ran a 16mm camera for the 1979 and 1980 Omak High School football teams.
The Pioneers raised $5,000 by picking apples for a Bolex, a marvelous camera.
Omak coach Gary Smith put the film canisters on a Greyhound bus after each game, whether home or away. The film would be processed in Spokane and rushed back to Omak for viewing on Sunday.
I'd like to think the film aided in Omak winning the state championship in 1979 (7-6).
For each game, I'd get four rolls of film.
Sometimes I would have 4-5 seconds of extra film at the end of the first half, so I would run it off filming the cheerleaders.
Smith used to get on me, saying I was distracting his players. The players whispered for me to keep filming the cheerleaders.
Film soon gave way to videotape, although you had to choose between Beta or VHS formats.
That soon led to assistant coaches or parents traveling far and wide to video other teams in preparation for future games.
With the advent of computers and digital cameras, coverage of games soon landed on DVDs.
Hudl.com is making a play to make changes even easier.
Al Camp is the sports editor at
The Chronicle. Email him at sports@omakchronicle.com.