Wednesday, October 9, 2013
/lk
National parks, forests and monuments – they're all owned by the public to preserve public access and enjoyment of America's aesthetic beauty.
But in the wake of the federal government's so-called "shutdown," you'd think these public amenities were the sole property of the federal government.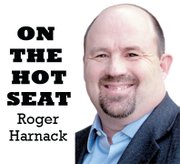 This past week, we've had several area campgrounds emptied, local boat launches barricaded, trail hikers threatened with arrest and sporting events cancelled. We've also seen North Cascades National Park operations and national forest offices shuttered for the foreseeable future. As a U.S. citizen, I "own" a piece of these properties. And so do you. These are our public lands, our public parks, our public boat launches, our public campgrounds and our public forests.
That said, I went in search of answers to questions about the closure of the region's public amenities being managed by the federal government. With only 17 percent of federal employees furloughed – only those deemed non-essential – I wanted to know why extra work was being done to prevent residents from accessing public lands.
Extra work, you ask? Yes.
Federal employees have barricaded trails, like the Pacific Crest Trail, and boat launches, such as Crescent Bay in Grand Coulee. Those, and countless other amenities, are normally unmanned and usually unmonitored.
Federal workers have also recorded voicemail messages saying they are no longer listening to your messages. And they have posted Web pages telling the public it cannot access the amenities it owns until they are back on the job.
On the National Park Service website, I found a near-blank page that said: "Because of the federal government shutdown, all national parks are closed and National Park Service web pages are not operating."
It took extra work to create that Web page, and I'm sure we paid above-averages wages for someone to create and post it.
When I couldn't find answers on the Internet, I called North Cascades National Park directly.
Working my way through the cumbersome voicemail system, I finally thought I found an answer. But then, I was greeted with the following recording: "Due to the federal government shutdown, all park facilities and the backcountry are closed to the public until further notice."
Not satisfied, I decided to call Lake Roosevelt National Recreational Area. That telephone number is "no longer in service."
You know taxpayers will be billed the reconnect fee when an employee returns to their high-paying, federal job.
I headed back to the Internet and ultimately navigated to the federal Department of the Interior website, where I found the following message: "Due to the lapse in appropriated funds, all public lands managed by the Interior Department (National Parks, National Wildlife Refuges, Bureau of Land Management facilities, etc.) will be closed."
I also found a link to the agency's "shutdown" page at www.doi.gov/shutdown. There, I located a telephone number to call for answers. To my chagrin, I got another recording that said voicemail was not being checked.
I tuned into other media sources to see if anyone else had been able to get an answer as to why public amenities that are normally unstaffed and relatively unmonitored were being closed.
After a few more hours of searching, I found one source that said the Department of the Interior ordered all trails, parks, boat launches, campgrounds, etc. closed to ensure public safety.
You've got to be kidding me.
I don't need a ranger on the trail to make sure I can hike safely. I don't need a federal employee standing on the boat launch to make sure I launch my Jet Skis safely. And I certainly don't need a fed standing outside my tent or beside my campfire to prevent me from hurting myself.
In fact, I would bet my outdoor skills – and most of yours, too – are far more developed than those of most federal employees.
Apparently, the Department of the Interior has become a fiefdom, like so many other federal agencies, believing it has to take care of its "subjects."
Whatever happened to personal responsibility when it comes to outdoor recreation? As a hiker, I head into the backcountry prepared. And if I'm not prepared, I should have to deal with the consequences. The Department of the Interior's mission is to protect America's natural resources and heritage and honor cultures and tribal communities.
The agency's decision to close forests, campgrounds, boat launches, trails and other public amenities isn't done out of necessity, nor is it in support of its mission. It's being done out of contempt for the general public, and out of the government's desire to make the so-called "shutdown" hurt.
As owners of these public lands, we need to demand the barricades be removed and public access be restored. We should not be held hostage to the demands of bureaucrats trying to protect their "non-essential" government jobs.
Roger Harnack is the editor and publisher of The Chronicle. He can be reached at 509-826-1110 or via email at rharnack@omakchronicle.com.