Wednesday, October 9, 2013
/lk
OKANOGAN — Company Creek Pizza from Chelan beat Mid-Valley Hospital in the championship game of the Save 2nd Base tournament Oct. 5-6 at The Plex.
The inaugural 12-team tournament was produced by Bouncin' for Boobies to benefit those fighting breast cancer.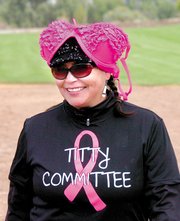 Unofficially, the tournament raised more than $3,000 "for our local cancer fighters," spokeswoman Lynn Hoover said.
The tournament got under way with three cancer survivors throwing out the first pitch – Patty Murrah, Penny Tverberg and Sandy Hinger.
"I am fighting and I am winning," Murrah said. "I am not a survivor."
The tournament included in every other inning a change of traditional rules.
For instance, a bigger, softer ball was used, with runners racing the bases in the opposite direction by going to third first.
A playground rubber ball was used after a batter was walked. The batter had to kick the ball and could be thrown out by being hit with the ball, just like in dodge ball.
Tickets could be purchased to have a play done over or have a player removed.
That worked pretty good when taking out third base with the big ball.
On one field, the third out had to wear a pink bra on his or her head for an inning.
Some people ended up in "Titty Timeout" for an infraction, such as throwing the rubber ball and hitting someone in the head for an out.
"I didn't do anything," Jessie Utt of Tonasket said when chosen to be the first in the jail. "I was just standing out there."
Titty Committee won best team costume prize.
Individual costume winners were Thad Brady and Aanna Duncan.
In the long-ball/home run competition, Nick Froman and Jessie Utt each won.
B4B's next event is "Bowling For Boobies" on Saturday, Nov. 2, at Valley Lanes, 740 Riverside Drive, Omak.
Tickets are available by contacting a Bouncin' for Boobies board member or by contacting the group through Facebook.