Saturday, October 12, 2013
/lk
POST FALLS, Idaho – Okanogan resident Vanessa VanderWeide overcame difficult lane conditions Oct. 6 to finish sixth in a junior bowling tournament.
"The lanes were a little different than Valley Lanes, but a lot of the same," she said. "The (tournament) lanes were different because the oiling was off. So every shot, you were moving to the left or to the right. The lighting was also different. The lights there were a lot dimmer" than at the Omak alley.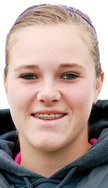 "The approach they had was older" and more worn out, she said. "It was harder to get your bowling ball to react to the different oils."
Despite the problems, VanderWeide had games of 211, 188, 199, 196, 161, 222, 173 and 224 in the 23-bowler tournament. She finished 51 pins out of fifth-place.
"I had a fun time bowling with the group I had," said VanderWeide, a junior at Okanogan High School. "I bowled against some tough kids. After four games, 12 kids went on and the other 11 were out, I made it into the next level and lost my first game with a 161."
VanderWeide was the top high school girl in the tournament dominated by boys.
"I will have to say I am one lucky girl," she said. "I have loved bowling for so long, that finally my dreams are coming true."
She credited her success to Valley Lanes coach Dale Dunckel "for taking his time out of his day to help me improve," parents Jay and Marla VanderWeide "for taking me to the tournament and letting me achieve my dream," and Valley Lanes owner Larry Widman for "helping me with everything from equipment to just being one of my biggest supports."