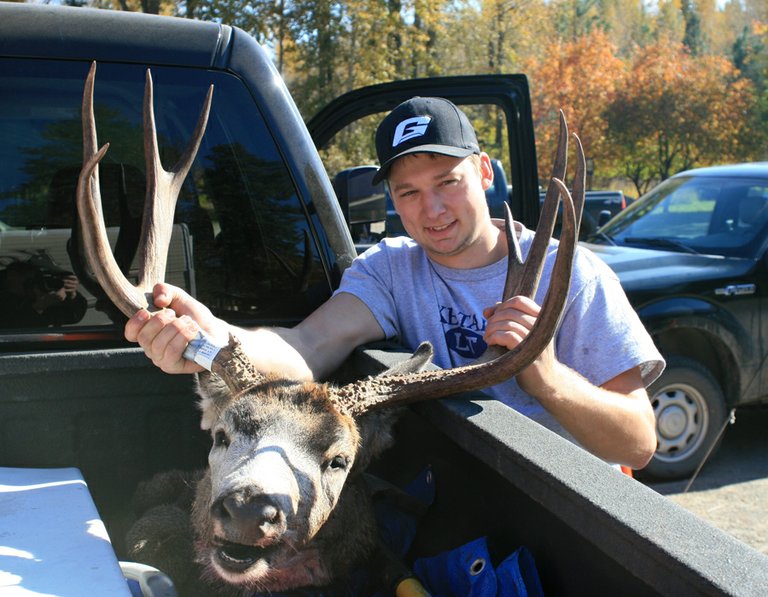 Wednesday, October 16, 2013
/lk
WINTHROP — You might call it a case of beginner's luck.
Colby Peterson, 22, had never been hunting before until heading out into the Methow Valley woods for the opening weekend of modern firearms deer hunting season.
Peterson, from Marysville, killed a 4x4 buck with a 27-inch antler-span Sunday morning.
"We hunted probably from about 6 a.m. to noon (Saturday) and we didn't get anything for ourselves. And nobody in our group did either," Peterson said. "The ones I saw had already been shot, so there was nothing to shoot at."
After six empty hours on his inaugural venture, Peterson took advantage of his first opportunity Sunday with a big buck.
"We get sunrise about 6:50 (a.m.), so it was probably 7:05," Peterson said.
Peterson was hunting with his dad and his girlfriend's family.
"This is my first time ever," he said. "My girlfriend's uncle invited us. He comes out here often."
Meanwhile, Tom Nordine, from Kirkland came from the other end of the spectrum.
Nordine has been hunting in Okanogan County since about 1980, he said.
He shot the largest buck that came through the Winthrop deer check station over the weekend, a 6x5 buck with a 30-inch antler-span.
He shot his buck from relatively close distance early Saturday morning.
"There was no chasing it," he said.
Although Nordine shot the buck early in Saturday, he spent more than a day hauling it out of the forest, he said.
"Actual retrieval time was 27 hours," he said. "I had to fight that thing getting it down off the hill. Finally got to a road and … dusk."