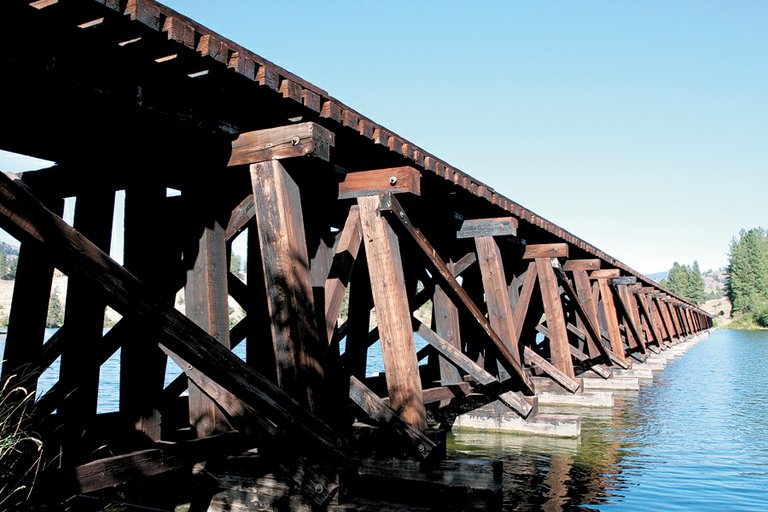 Wednesday, October 16, 2013
/lk
Work began Oct. 14 to repair the northeast side of the 770-foot trestle across Curlew Lake on the Ferry County Rail Trail.
Stotts Construction of Curlew is doing the preparation work, and decking and railings will be installed by Grant Tolton of Republic. Ferry County Rail Trail Partners Vice President Keith Bell will assist.
The trestle decking will connect the 28-mile rail trail that runs from the Republic School to Danville near the Canadian border.
"We are all very excited for the progress," Ferry County Rail Trail Partners President Bob Whittaker said. "This new postcard-perfect feature will really put the Ferry County Rail Trail on the tourism map, as well as connect our local communities with a safe bicycle/pedestrian path."
The trestle decking project is the first phase of the trail's long-term development.
"The project is the culmination of several years of a collaborative effort between the Ferry County commissioners, their advisory board – the Rail Corridor Committee – and our local citizens group, Ferry County Rail Trail Partners," Bell said.
The Federal Highway Administration Transportation Enhancement Program grant is supporting the project.
"This groundbreaking is another positive milestone for this trail," Whittaker said. "It sure feels like it took forever to get to this point, but remember, we did not get the non-motorized designation until after a county-wide vote in November 2009."
The project has gotten three major grants, a planning grant from the National Parks Rivers and Trails Assistance Program and two $100,000 state development grants.