Wednesday, October 16, 2013
/lk
Last week, I went in search of answers on why local trails, boat launches and parks were being barricaded under the partial government shutdown when such areas are normally open and unmonitored by federal employees.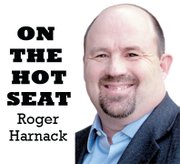 Since writing that column, I decided to see how our elected officials were responding to public questions. That led me to uncover another issue: Two of the four elected federal officials representing Okanogan and Ferry counties are no longer listening to constituents.
U.S. Sens. Maria Cantwell and Patty Murray, both Democrats from the west side of the state, are telling constituents that they are not taking messages. Conversely, east side U.S. Reps. Cathy McMorris Rodgers and Doc Hastings, both Republicans, are still welcoming calls and messages.
When I called Hastings' office, my call was picked up on the second ring. And while Hastings was on the House floor and his press secretary was out, another staffer quickly offered to help me, take a message or do anything he could to resolve my quandary.
He chuckled as I told him my only purpose in calling was to find out if our elected federal officials were taking calls from constituents in the wake of the partial shutdown.
When I called McMorris Rodgers' office, an assistant there laughed as I explained the reason for my call. "Oh yes, we're taking phone calls," she said, encouraging me to call back any time.
Neither Hastings' nor McMorris Rodgers' staffers whined about the partial shutdown. And both quick conversations were reassuring to this taxpayer, who wanted to know that elected officials – at least in the House – are indeed listening.
Jump across the political aisle and into the U.S. Senate, and things are quite different.
There, neither Murray nor Cantwell is interacting with constituents.
Murray's website sums it up: "Due to the federal government shutdown, Senator Murray's office is currently unable to respond to any incoming email or mail correspondences, tour requests or any other inquiries from constituents. The Senator and her staff apologize for this inconvenience."
A call to Murray's office leads to a similar voicemail message: "Thank you for calling the office of Sen. Patty Murray. Due to the ongoing federal government shutdown, we're currently unable to respond to any incoming calls or any other inquiries from constituents. We apologize for this inconvenience."
What? She's too busy to hear from those who elected her? It appears that it's just too easy for her to ignore constituents during the partial shutdown.
If the senator isn't going to listen to her constituents here in Washington state, she should be called home. At least here, she'd have to answer questions from voters.
Murray would do well to follow Rep. Hastings' example. On his website, Rep. Hastings says: "I am always glad to hear from Central Washington residents on issues of importance to you. Your feedback is vital to ensuring that I am best representing the interests of our area."
This open-office, closed-office divide between our elected representatives and senators appears to fall along a partisan talking point.
Republicans representing us in the U.S. House are available; Democrats representing us in the U.S. Senate are not.
Back in the Senate, Democrat Cantwell has this to say on her website:
"We are sorry to report that our office is currently closed, due to the federal government shutdown.  We apologize for any delays in response time you may experience as a result of the shutdown. Once the federal government resumes normal operations, we will promptly reply to all correspondence received during the period of the shutdown."
And if you call her office, her voicemail says: "Due to the federal government shutdown, only limited staff is available to answer your call."
Isn't it interesting how differently our elected federal officials view their jobs and accessibility to voters when the nation is facing pressing issues?
Roger Harnack is the editor and publisher of The Chronicle. He can be reached at 509-826-1110 or via email at rharnack@omakchronicle.com.