Wednesday, October 23, 2013
/lk
OMAK — The city's Festival Committee has a full slate of events lined up for Halloween, starting with the Harvest or Halloween Home and Business Decorating Contest.
The registration deadline was Oct. 21, with judging Oct. 30. Prizes will be awarded to the winners.
The business decorating theme is "Scarecrows." Home themes are scary, harvest and traditional.
This Saturday brings the Zombie Fun Run in East Side Park. Registration runs from 8-8:45 a.m., with the 1.5-mile run starting at 9 a.m.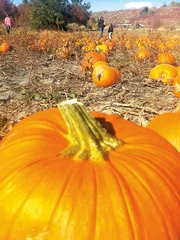 The event is open to all age groups and costumes are encouraged.
Canned food will be accepted for the Omak Food Bank.
The free family event is organized by the Omak Chamber of Commerce, city of Omak and Fit for Life Community Coalition in the Omak School District.
The Halloween Harvest Festival is from 4-8 p.m. Saturday at Civic League Park on Ash Street.
Children and adults can bring their carved or decorated pumpkins. Also planned are costume and pumpkin pie eating contests, vendors, s'mores, a children's carnival, prizes and a free family movie.
The chamber-city event will get assistance from Omak Kiwanis and Key Club, Downtown Committee and the Civic League.
Other Halloween/harvest events include:
Brewster
American Legion Columbia Post 97 will host trunk-or-treat at 4 p.m. Oct. 31 in the Legion hall's parking lot, 102 Third St.
A costume contest will be at 4:30 p.m. in the same place, with trick-or-treating immediately following at the businesses along Main Street.
All ages are welcome at the costume contest, but trophies and ribbons will be awarded to children in ages 0-2 years, 3-5, 6-8 and 9-12.
Keller
The Keller School trunk-or-treat event will be at 1:30 p.m. Oct. 31 at the school, 17 S. School Road.
Nespelem
Colville Tribal Credit Corp. plans a costume competition 1 p.m. Oct. 31 at the credit office, 14 Moses Road.
Prizes of cash and gift cards will be given in categories for children up to age 17 and for those 18 and older.
A coloring contest also is planned for those through age 17, with cash prizes offered. Contest information is on the Colville Confederated Tribes' website.
Okanogan
• Children's House Montessori School plans a fall festival from 1-3 p.m. Saturday, Oct. 26, at Good Farms, 33 Appleway.
The event includes carnival games, a pumpkin patch, pumpkin decorating, candy, a costume contest and prizes. Admission will be charged to those age 13 and older; younger children will be admitted free.
The event will benefit the school, 521 Jasmine St., Omak.
• "Haunted Scaregrounds," a haunted house-type event at the Okanogan County Fairgrounds, 175 Rodeo Trail Road, is planned Oct. 26, 30 and 31.
The Okanogan High School Dawg Stars drama club is organizing the event, which is geared toward those in third-grade and older.
Hours are 7-10 p.m. Oct. 26, 7-9 p.m. Oct. 30 and 7-9 p.m. Oct. 31.
Admission includes a hay ride.
• Meanwhile, the Hip-hop Hallelujah Carnival will be next door at the fairgrounds Agriplex on Oct. 31. Hours are 5-8 p.m.
The event, organized by Cornerstone Christian Fellowship Church, several civic organizations and other churches, is a family gathering that offers free hot dogs, popcorn and drinks. Admission is free, although donations will be accepted for the food bank.
Activities include carnival games, a cake walk and bouncy house. Treats will be given, and a fire truck and ambulance are scheduled to be there for children to explore.
Costumes are welcome, but organizers ask that no scary costumes be worn.
The event draws about 2,500 people each year.
• A ghoulish family dinner will kick off the Eagles Club's annual Halloween party at 6 p.m. Friday, Oct. 25.
The event, at 1820 N. Second Ave., also is a membership drive.
Dinner will include "brains and eyeballs" spaghetti, salad, garlic bread, dessert and snacks. Admission will be charged.
Children are welcome from 6-8 p.m. and Lady J Karaoke starts at 6 p.m. A costume contest parade is planned at 7 p.m. Goodie bags will be distributed.
For adults, a costume contest and karaoke are planned later. Dancing and special drinks are planned.
The event is open to the public, although there will be a cover charge for non-members.
Proceeds from the evening go toward the Eagles Christmas party.
Omak
• A great pumpkin carving contest and pumpkin patch party is planned by Apple Springs Senior Living, 1001 Senna St.
Free pumpkins will be available from 10 a.m. to 5 p.m. Oct. 24. Participants can decorate, carve, engrave or sculpt them.
Pumpkins can be returned at 6 p.m. for judging. The winner will get a "spooktacular" award, Apple Springs said. Treats will be given.
-Costume rentals will be offered by Okanogan Valley Orchestra and Chorus from 11 a.m. to 5 p.m. Oct. 23-27 and Oct. 30 to Nov. 2 at The Courtyard Downtown, 28 N. Main St.
• A trick-or-treat the merchants event will be from 3-5:30 p.m. Oct. 31. Participating businesses will be announced next week.
Oroville
• A Halloween carnival is from 4-6 p.m. Oct. 26 at Oroville High School, 1008 Ironwood St.
The junior class is staging the event as a fundraiser. Games will be geared toward children age 10 and younger.
A "haunted hallway" is planned for all ages.
Tickets will be sold for games and admission to the hallway.
• Businesses posting a green trick-or-treat sign will offer treats from 3-6 p.m. Oct. 31.
Merchants are encouraged by the Chamber of Commerce to wear costumes. A contest is planned for best costumes and decorations among businesses.
Pateros
The annual "Nightmare at the Museum" will be from 6-9 p.m. Oct. 31 with a theme of "Cirque de Freaks."
The museum, located within City Hall at 113 Lakeshore Drive, will be decorated with "cool oddities" and feature volunteers dressed up as "circus and sideshow freaks and creepy clowns," according to organizer Tiffany Sullivan.
"We're gonna go for the gusto. We're going to try to make it as creepy as we can, I think," Sullivan said.
For younger children, the city plans to turn the neighboring council chambers into a less scary space with games and treats, she said.
Volunteers and donated materials are still being sought. Anyone who wishes to participate in the event should show up by 5 p.m. at the museum.
Tonasket
• A showing of "The Rocky Horror Picture Show" will be at 7 p.m. Friday, Oct. 25 at the Community Cultural Center, 411 S. Western Ave. Doors open at 6 p.m.
The event is a fundraiser for Okanogan Valley Orchestra and Chorus. Admission will be charged.
Costume prizes, a silent auction, concessions and "Time Warp" bags (with audience participation items) will be offered.
• The Tonasket Community Cultural Center Halloween party starts at 5 p.m. at the center, 411 S. Western Ave. It features finger foods, candy, games and a haunted house.
Tunk Valley
A potluck and children's Halloween party will be at 6 p.m. Oct. 26 at Tunk Valley Grange, 106 Knox Road, Riverside.
Twisp
• Children are invited to a Halloween-themed carnival and haunted house from 1-5 p.m. Saturday, Oct. 26, in the Methow Valley Community Center gym, 201 Methow Valley Highway.
• Halloween masquerade ball, complete with dancing, decorations, drinks and fortune telling, is planned at 8 p.m. Nov. 2, also in the Community Center.
The event, for those age 21 and older, is a fundraiser for Methow Valley Theater costume storage. An entrance fee will be charged.
Costumes are optional. The theater will have costumes and accessories for purchase or rental. Help is sought in setting up and operating the event.
• On Oct. 31, downtown businesses will offer candy during business hours, and a community trick-or-treat event will be on Burgar Street in the evening.
Wauconda
A potluck and Halloween party are planned Oct. 26 at the Wauconda Community Hall, 129 Toroda Creek Road.
The event starts at 6 p.m. with a potluck. The party, geared toward children, starts a 7 p.m.
Games, treats, a costume contest and piñata with candy are planned.
Winthrop
Trunk-or-treat will be hosted by the United Methodist Church from 5-7:30 p.m. Oct. 31 across from Town Hall, 206 Riverside Ave.