Wednesday, October 23, 2013
/lk
Spectacle Lake, which appeared to be in line for rehabilitation this fall, will not be rehabilitated and its future is cloudy.
"After careful deliberation, the department decided to postpone rehab on Spectacle," regional fish biologist Chad Jackson said. "We're not sure if it will be next year or two years from now."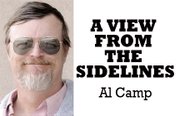 Jackson said the problem was aquatic vegetation problems in the lake near Loomis.
"That's the sticking point for finishing the rehab" documents, he said. "We have been in negotiations with the water right holder, which is Whitestone Reclamation District."
The district had until 5 p.m. Friday, Oct. 18, to get a letter to the state Department of Fish and Wildlife addressing the problem.
Jackson, who said the permit timeline was not met, was working Monday on letters to property owners explaining the problem.
"We simply ran out of time to coordinate the rehab," Jackson said.
The reclamation district and lake stakeholders will need to work on existing issues, which includes the aquatic problem, said Jackson, who said that may not get completed next year.
If all had gone according to plan, rehab preparation would have been Oct. 28 with treatment Oct. 29.
Jackson is the fish biologist for Grant and Adams counties. He currently is covering Okanogan County, too, after fish biologist Bob Jateff retired at the end of September after 34 years with the department.
Spectacle has a season of April 1 to Sept. 1.
About 2,000 adult bluegills recently were transplanted from Spectacle to Sprague Lake near Spokane.
The Bluegills have reached up to 9 inches at Sprague Lake, which was rehabilitated in 2007.
I have not heard back from Lee Morrison, but I understand he won a split decision in his mixed martial arts fight Oct. 20 in St. Petersburg, Russia.
Morrison (13-2) topped Mikhail Malyutin (27-11).
I am sure once Morrison returns this weekend, or when he gets my email, he will tell about the international fight produced by M-1 Global.
A Zombie Fun Run is planned for 9 a.m. Saturday, Oct. 26, at East Side Park in Omak.
Registration will be 8-8:45 a.m. for the 1.5-mile run, which is open to all age groups.
Costumes are encouraged, as are canned food donations for the Omak Food Bank.
There will be fun, free trail runs of 1.5-miles and 5K starting at 2 p.m. Saturday, Oct. 26, at Liberty Bell High School.
Al Camp is the sports editor for The Chronicle. Email him at sports@omakchronicle.com.