Sunday, October 27, 2013
/lk
Not everything stays in Las Vegas.
Okanogan County senior softball players left with a bunch of medals from the World Championships in the past month.
The players also collected medals at the Senior Huntsman Games played for two weeks this month in St. George, Utah.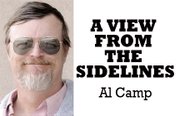 Omak's Steve Marchand, Gary Lewis and Edwin Marchand hauled home silver medals while playing for Northern Exposure on from Juneau, Alaska.
Northern Exposure fell to Hawaii in the 50AA championship in Vegas.
Lewis, 57, would be named the tournament's most valuable player.
"I've been playing in the World Championships the last seven years with Alaska," Gary said. "I used to live there. This is my first year playing in the 55-and-over division."
Steve Marchand, who played mainly shortstop, would be an all star.
Steve Marchand and Lewis also played with Northern Exposure in the 55-plus tournament in Vegas, where they were eliminated on the final day.
Kristi Marchand played outfield for Team Alaska of Anchorage, Alaska. The 40-plus team fell on the final day of the 17-team tournament.
"They were all good, close games," she said.
"We are getting a lot of representation from up in our country," Winthrop's Neil Riebe said.
Riebe pitched the Mesa Cardinals to a gold medal in the 74-plus major (toughest) division Oct. 13-15 at the Huntsman Games.
Riebe, 77, has six gold medals, two silvers and three bronze from senior softball in the Huntsman Games.
In the World Championships of senior softball, he owns seven World Series titles.
Steve Marchand played short, Edwin Marchand was at first, George Webster of Brewster was the pitcher, Don Maples of Winthrop was at third and Rick Halterman of Bridgeport was in the outfield for the Wenatchee Merchants, which took gold in 55C at St. George.
The Merchants beat Nanaimo, B.C., 16-15 in the championship.
Halterman and Maples played with the Marchants in the 60C division, which finished second.
Shirley Bowden of Okanogan coached and played with the Desert Stars 55-plus team from Kelowna, B.C., which finished second.
She also played third for her winter team, the Queen Bees, in the 65B division.
Roy Bowden of Okanogan played third for the Fat Willip Team from Arizona, which took bonrze in the 74-plus division at the games.
Dale Linklater of Okanogan played with D.K Stanley of Buckley in the 65C team, which lost in bracket play.
Linklater also played for Mr. Bees of Wenatchee in the 70-plus AA division, finishing second after losing, 31-30, to Molson from Vancouver, B.C., in the championship game.
Al Camp is the sports editor at
The Chronicle. Email him at sports@omakchronicle.com.