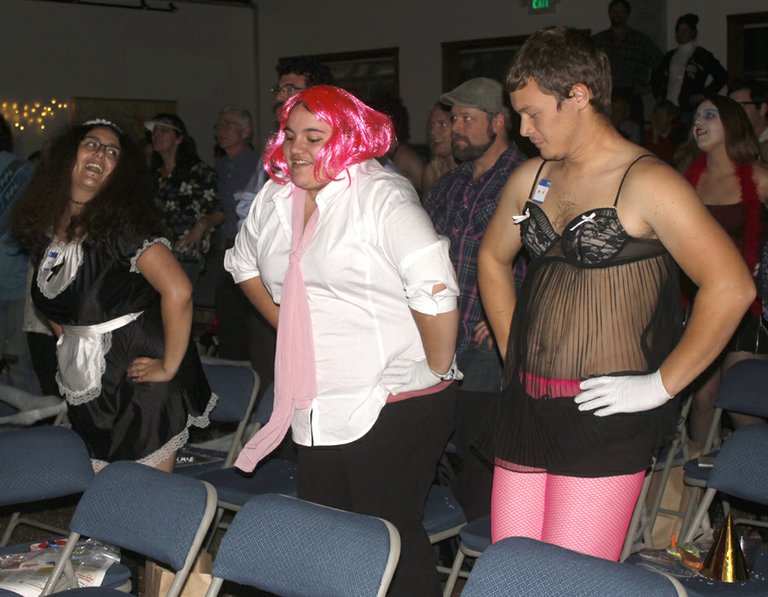 Wednesday, October 30, 2013
/lk
TONASKET — Nearly 100 fans turned out Friday night to do the "Time Warp" and celebrate Halloween with the inaugural local showing of "The Rocky Horror Picture Show" at the Community Cultural Center.
The event at 411 Western Ave. was also a fundraiser for the Okanogan Valley Orchestra and Chorus.
"I'm glad we did it," organization President Karen Schimpf said. "We made some money and had a good time. It was a success."
Fans dressed the parts of Rocky Horror, Magenta, Brad, Janet, Meatloaf, Columbia and, of course, Dr. Frank N. Furter.
Dayne Keith, 25, of Omak, dressed as Dr. Frank N. Furter. Wearing a black corset, high-heeled shoes and fishnet stockings, he was selected as the best-dressed male fan.
Fans were also able to purchase Rocky Horror prop bags that included newspaper, flashlights, rice, toast, a rubber glove, cards and other items to be used or thrown into the air in accordance with an included fan script.
"This was really cool," Schimpf said, noting that years ago several area residents used to throw "Rocky Horror" parties.
According to Schimpf, more than $1,200 was raised Friday night, and more donations to the Orchestra and Chorus are coming in.
To put on a successful season, she said the group needs to raise approximately $75,000 to pay for broadway performances and concerts.
"We hope to make this an annual event," she said, adding the group is already working on improving sound, concessions and other items.