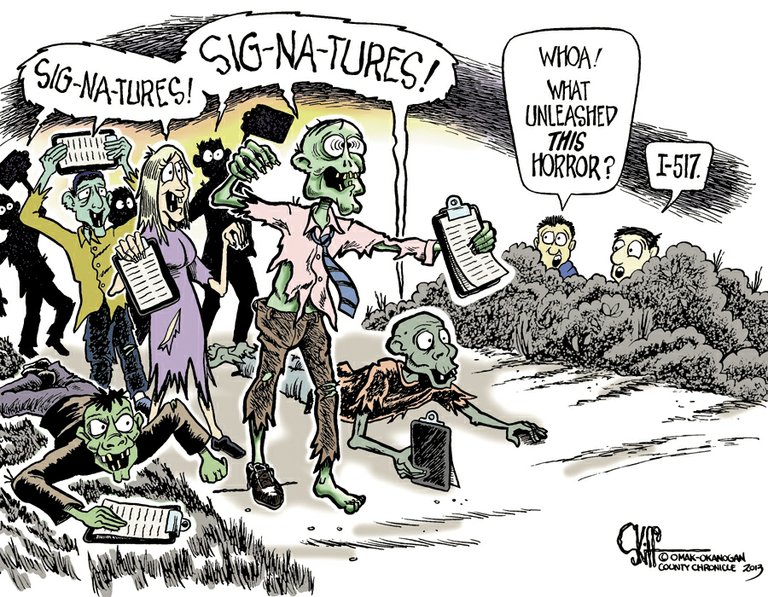 Wednesday, October 30, 2013
/lk
Dansel's attitude benefits region
I would like to share my views on the qualifications I see in Brian Dansel, candidate for 7th District state senator.
I have observed Brian most all of his life, and half of mine. I had daughters who went through school with Brian. He excels in leadership, and leading through example became student body president of his high school.

He went on to become a Ferry County commissioner. At that job, Brian has been able to bring one of the poorest, least populated, highest unemployment counties in the state into a cash-surplus economic situation, without help from the state or federal governments.

His example should be recognized by the federal government as the correct direction to take, since we are now some $17 trillion in debt. Brian's "old-fashioned," down-to-earth attitude is that people in Eastern Washington should be able to have easy access to testify on bills proposed by the Legislature.

He believes we should not accept all the bills that are trying to be passed by the I-5 corridor based on an individual's face value, but put input into these bills before they become laws. Our values, culture, and way of life is mostly quite different than most people in the city.
If you are going to vote for a "yes person" or for big business interest that influences voting bills, then don't vote for Brian. Appointed 7th District Sen. John Smith also appeared prepared, but he seemed defensive and slightly dogmatic.
Who best will represent us as 7th District senator for Eastern Washington?
Jim Nash, Republic
Rated 'R' movies are for adults
I don't know whom I'm angrier with – selfish parents or the movie theater in Omak.
My husband and I are frequent movie-goers and we have noticed a frightening and very sad trend: Out of the last three movies we've attended in the space of a month, two were rated "R" and one was "PG-13. There were very young children in attendance at all of the movies.

The "R" rated movies had violence; gruesome, bloody and graphic murders; language inappropriate for children; and sexual content. The "PG-13" movie was an extremely intense story based on a true event – also inappropriate for young children.
When parents are shamefully making such poor choices for their children, the owners of the Omak Cinema and Mirage Theater should support stricter policies regarding age restriction and movie ratings. While viewing a "PG-13" movie should be based on the maturity of the children and up to a parent's discretion, an "R" rated movie should never be watched by younger children.

Parents – try trading in that super-size popcorn, soda and candy for a babysitter or try trading babysitting with friends. When those options aren't available just stay home for the sake of your kids!
Carol Plughoff, Omak
I-522 campaign smears company
I don't own stock in Monsanto, and "caveat emptor" is always good advice, but some in the pro-I-522 camp would attempt to smear Monsanto and GMOs with the same tar-and-feather brush they use to attack the relatively rare sins of the chemical industry.
It is important, thus, to observe that GMOs constitute bio engineering, not chemical engineering. GMOs are about nature's genes, not man-induced chemicals.
Moreover, Monsanto is trying to engineer greater crop yields that feed more starving people worldwide while requiring less or no chemical pesticides, less or no chemical fertilizers and less critical water demand.
Don't be confused, please. Vote no on I-522.
William Slusher, Riverside
PAC money paying for Smith
In doing research on the candidates for the 7th Legislative District Senate race, I have come up with some surprising information not every voter may know.
What do the following entities have in common?
Northwest Sportfishing Industry WA PAC of Oregon City, Ore.
Novartis Pharmaceuticals Corp. of East Hanover, N.J.
PMSA Washington State PAC of San Francisco, Calif.
Ash Grove Cement Co. of Overland Park, Kan.
Johnson and Johnson of New Brunswick, N.J.
CMR PAC of Springfield, Va.
These are some of the big money contributors to the John Smith campaign.
Although the information is accessible to everyone, not all will take the time to research.
Smith raised $94,373.00 and spent $66,364.06, as the date of Public Disclosure Commission information I was able to access.
This is enough to put my vote in the hands of Brian Dansel, who has raised campaign funds from the common folk who truly support him.
Tammy Stevens, Republic
Judge Sen. Smith by his actions
John Smith was selected by the county commissioners of the counties he represents to fill the vacancy left when Sen. Bob Morton retired. John went to Olympia and worked hard to represent the conservative values we believe in. His ability to work with all of the senators and House members of both parties led to spending most of the $2 billion in new state revenue on K-12 education funding and stopping an increase in college tuition. Many wanted to raise taxes again, but John and others held the line.
John's business background has taught him failure and success, factors we all need to understand. Burdensome taxes and over-regulation hinder any business and the prosperity of the state and all of its citizens.
Being a new senator is a real challenge and John is wise enough to listen to former Sen. Morton and others who have walked the walk. The first lesson is that you are one of 49 senators, not the man in charge, and cooperation and compromise is a necessity, without giving up your goals.
John is also a strong supporter of gun rights and endorsed by the NRA.
Judge Sen. John Smith by his actions in office and not the accusations made about his grandfather or other mudslinging.
I ask your support of John Smith based on my 50-plus years in government and community service.
Larry Beardslee, Republic
Dansel the best Senate choice
Brian Dansel is the best choice to be our elected senator. He says what he means and means what he says.
John Smith will go back and forth on anything depending on who he is talking to. He is looking for someone to pat him on the head and tell him "good boy."
Brian is trustworthy and honest.
I believe Smith is disingenuous nor is he respected by about 80 percent of the voters. Smith lied to every voter in Colville on the airport.
It doesn't matter if you were for or against a new airport, the flier he sent out on the FAA funding was a lie and the FAA said it was also.
On Oct. 14, I listened to part of the Republican Central Committee try to make me believe Smith was God-like – I didn't see any halo on him.
They want him in there no matter what he is. I will never go to a fundraiser for the Republican Party again as long as these people are there.
I will support only the best candidate. I'm asking for everyone in the 7th District to vote for Brian Dansel for state senate.
Bill Depo, Colville
Bureaucrats inpose city values
We, hard-working rural folks living for decades in the outback, pay generous, but seemingly futile land taxes in expectation of immunity from regulatory overkill. Today's intrusive rule-making and regulatory bureaucracy has swamped all economic activity in the rural marketplace.
Our rural sheriffs and commissioners were previously not bureaucrats; they were elected as like-minded folks with shared values.
Our only mutual requirements were crime protection, equal justice, economic encouragement, good roads and rural safety.
When unelected bureaucrats recently invaded remote rural areas, we found inner-city values came with them. Our country ways offended them.
We can no longer keep our affordable, secluded outhouses or self-built simple farmhouses. We must upgrade all our facilities into counter-intuitive and unaffordable inner-city standards. We must be monitored in all our remote rural activities by bureaucrats.
Yet, our whole economy depends on affordable simplicity — not regulatory overkill. Our clear property lines and closed doors must not be breached by bureaucrats, even to our private sanitary facilities. New intrusions, penalties, fines, fees and upgrades are a vast overkill with no subsidies to compensate us.
Unelected bureaucrats are indifferent to our livelihoods, values, budgets and mores, and demand our abject subjugation and punitive fees, fines and assessments for their insane tribute.
No rural economy can flourish when these resentful and profiteering bureaucrats can forcibly intrude and dictate their outside values. We rural Americans preserve the simple values of "Honest Abe" Lincoln and "Poor Richard" Ben Franklin, not those of the predatory "Slick Willie" Bill Clinton.
In low-income rural America, this insane leap from freedom to despotism must be cut short and disbanded. Poverty is assured when government extracts more than victims can possibly realize in earnings.
Ward Hartzell, Twisp
Bulldogs serve local community
I am impressed by the Okanogan Bulldog football team.
Okanogan County Public Health coordinated a free tire disposal and recycling event at the Okanogan landfill Oct. 22-26. The response from county and city residents has been terrific. We will have disposed of over 25,000 tires from the county-wide effort when the event is complete.

For the landfill event, Okanogan football players will have handled well over 2,500 tires. That is not an easy feat – lifting tires (personal and orchard size, with or without rims, etc.) four feet up into the back of a 28-foot trailer, then weaving and stacking the tires into a five- to six-foot tall stack. The tire event ran for five days, and each day members of the team came to help. It was fantastic.
I cannot imagine coordinating this type of community event without the help of coaches and players.
The players deserve recognition for their efforts. And if you brought tires to the tire disposal event, please share your appreciation the next time you see an Okanogan player.
Ella Robbins, Okanogan
Budget themes remain the same
The Omak-Okanogan County Chronicle story published on Page A6 of the Oct. 9 edition titled "County releases budget forecast" is a recurring story for Okanogan County, whose budget woes are seemingly never-ending.
Several hundreds of thousands of dollars are owed to Okanogan County under our state statutory law that the elected Okanogan County Prosecuting Attorney's Office is too ignorant or incompetent to collect.
Elected county commissioners need to call the Okanogan County Prosecuting Attorney's Office to task for the grievous injustice and the voters need to elect someone who will provide better representation in collecting money clearly owed the county.
I know this letter is a little vague on the exact statute that the money is due under, but some bright conservative may figure it out and make political changes come election time, God willing.
David W. Creveling, Carlton
Lack of data sways voter
What does it say about a candidate in the voters' pamphlet who offers no information available?
Is that a sign of things to come?

Brian Dansel
Elected Experience: Ferry County commissioner 2011-present
Other Professional Experience: Golf PGA Golf Professional
Education: A.A. Walla Walla Community College
Community Service: Republic High School Vocational Advisory Committee, Republic Public Development Authority Board Member
John Smith
Elected Experience: No information available
Other professional Experience: No information available
Education: No information available
Community Service: No information available
We need transparency in Olympia. No information available is not the answer.

Brian Dansel is the answer. He's the people's candidate.
Amy Sharbono, Republic
Visitors laud Tonasket workers
On Oct. 21, on our way to Omak, we experienced a tire blow-out on our 2012 Toyota. We moved onto the narrow shoulder and stopped.
My husband began the process of changing the tire only to discover there was no key for the locking lug nut — something we had not noticed when we purchased the car five months earlier. I was contacting Toyota for roadside assistance when the Tonasket fire chief stopped to help by trying to remove the nut with tools he had and providing much-needed information on tire and towing companies.
We were becoming concerned about everyone's safety on the roadside when Jick Reese from the state Department of Transportation pulled up and activated the truck's flashing lights. He also tried to remove the lug nuts without success.
He put out a sign warning traffic of our presence, then drove to the shop and returned with another employee to direct traffic. He also brought a socket to remove the locking nut. He then very kindly changed the tire for us.
We may have had a two-hour delay on the side of a busy highway with no civilization in sight, but we felt well-looked after and treated with much kindness and concern.
Tonasket will now become a favorite place for us to eat, shop and camp on our trips.
Maureen Krulitski, Peachland, B.C.
Olympia needs Smith's influence
As a long-term Colville resident, I have known John Smith and his family for close to 10 years, six of which have been alongside us in local church. I've come to greatly appreciate who John is and his unselfish service to his community.
As state senator in Olympia he has worked hard with other elected officials on issues that impact us here in District 7 —reasonable timber management to preserve the health of our forests, farmers' and ranchers' rights to protect their livestock from predatory wolves, supporting the local farmer, encouraging entrepreneurs and wood pellets as a renewable energy source.
It is the American dream to be able to pursue freedom in the marketplace. John has worked tirelessly to preserve and restore our individual freedoms in the state.
We believe, and we're joined by a multitude of others who endorse Sen. Smith, that John is the best man for the job. We need his influence, integrity and conservative values continuing to make a difference in the government of our state.
Judy Greenough, Colville
Letters to the editor policy
The Chronicle accepts letters to the editor of 250 words or less. Letters must bear the signature and hometown of the writer and a daytime telephone number.
Letters with multiple signatures or sent to multiple publications will not be considered. Letters may not include personal attacks or thank you messages. Letters are subject to editing.
Publication does not imply agreement or endorsement by The Chronicle. Letters may be mailed to The Omak-Okanogan County Chronicle, Attn. : Letter to the Editor, P.O. Box 553, Omak, WA 98841; dropped off at The Chronicle office, 618 Okoma Drive, Omak; faxed to 509-826-5819, or e-mailed to news@omak chronicle.com.