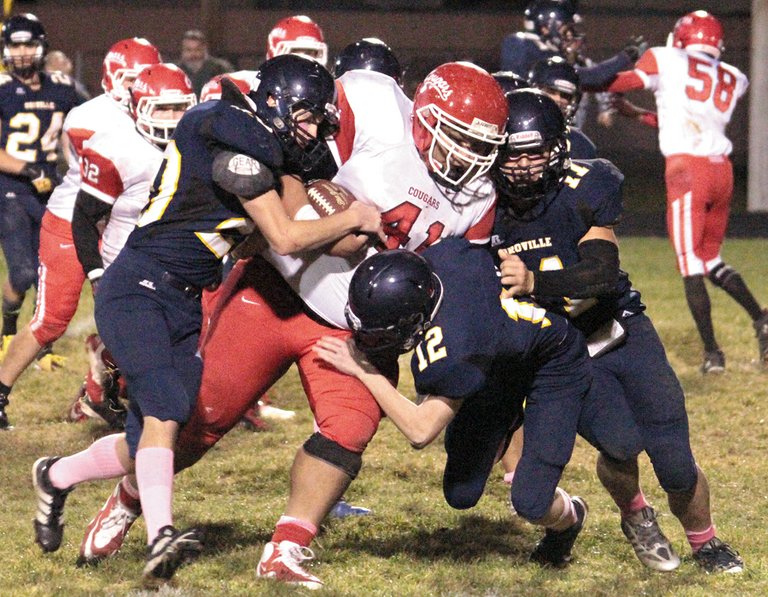 Wednesday, October 30, 2013
/lk
OROVILLE — Oroville came out on the short end of a physical football game against White Swan on Oct. 25.
The Cougars clawed out a 22-20 victory after the Hornets were unable to convert a two-point conversion late in the game.
"The White Swan game was very physical," Oroville coach Tam Hutchinson said. "It was basically a Punch and Judy show of pounding each other in the second half. White Swan, with its 17 seniors, was one of the most physical teams we have played since going 2B."
Neither side could dent the scoreboard in the first quarter.
Oroville struck in the second quarter when quarterback Luke Kindred (4-7-1, 96) passed 36 yards to Tanner Smith. Dustin Nigg kicked the extra point.
White Swan's Joseph Kosik (7-14-1, 102) passed for a 19-yard touchdown to Tristan Spencer (3-36) with 2 seconds left in the half. A two-point conversion failed, leaving the Hornets up 7-6.
Oroville needed only four plays to cover 65 yards, with Smith running the final 25 for a touchdown early in the third quarter. Nigg kicked the extra point.
"At that point, White Swan went from their normally spread offense to double tight ends," Hutchinson said. "The line played foot-to-foot and proceeded to pound our middle with their 400-pound fullback and inside counters to their 225-pound running back to tie the score up 14-14."
Brian Walker (11-79) took over, scoring 2 rushing touchdowns and 2 two-point conversions. His last score was set up when White Swan stopped Oroville at its 16 on fourth down.
The fray proved costly for the Hornets, who lost center Boone McKinney with a knee injury and Nigg with a head injury after he picked up his blocked punt and ran for a first down. Hutchinson said he went for it on fourth down on his side of the field because of the injuries to McKinney, who snaps on punts, and Nigg, who is the kicker.
"A miscommunication between the quarterback and myself led to us turning it over on downs," the coach said. "I'm sure a lot of people are questioning that decision."
That put the pressure on Oroville, which recovered from three fumbles inside the Cougars 20, to score with 2:06 on a Kindred 36-yard run.
But the two-point conversion failed after the handoff was fumbled.
The loss dropped Oroville into third place behind league-leading White Swan. Kittitas and Liberty Bell are tied for second.
Oroville (5-2 overall, 3-2 league) is at Bridgeport (1-8, 1-3) on Friday, Nov. 1.
uuuuu
QUINCY – Okanogan stopped a late two-point conversion to hold on for a 35-34 win over Quincy on Oct. 25.
No. 2 CTL Okanogan (7-1) will host NEA No. 3 Lakeside (5-3) at 7 p.m. Friday, Nov. 8. The winner advances to the first round of the state 1A tournament.
The Bulldogs' defense rose up after the Jackrabbits scored with 1:37 remaining.
Quincy quarterback Dallas Basset attempted to pass for the two-point conversion when he was hit and spun around by Enrique Vargas. Arturo Ramos hit Basset, causing the ball to come loose.
"We pretty much had an all-out blitz on that play," said Okanogan coach Erik Judd. "The ball came loose and it was all over."
Okanogan led 21-7 early in the second quarter.
Scores came when Justin Rivas picked up a fumble and returned it 25 yards and returned a punt 20 yards. Morgan Poulin (4-50) ran 25 yards to pay dirt.
Arturo Ramos (7-49) on a six-yard run in the third quarter, but he missed the extra-point kick.
When Rivas (5-60) scored on a 49-yard run, Okanogan went for a two-point conversion.
The snap went over Rivas' head. He managed to get the ball back and still score.
Also for the Bulldogs, Tyler Morris rushed 23 times for 121 yards. Omak (0-8 overall, 0-6 league) is at Okanogan (7-1, 5-1) for the Backyard Brawl on Friday, Nov. 1. See Page B4 for more on the long rivalry game.
uuuuu
CHELAN – Chelan got past Brewster, 35-16, on Oct. 25.
The Goats led 20-0 after the first quarter before Mitch Boesel (19-32-2, 157) passed 42 yards to Cade Smith (7-84) to put the Bears on the board in the second quarter.
"If we start out a little faster, we're in that football game," Brewster coach Jake Johanson said. "The boys kept playing hard and battling all four quarters."
Raul Olvera booted a 25-yard field goal and Hayden Bayha, who carried 12 times for 77 yards, scored on a 4-yard run.
Also for Brewster were Raf Varelas (22 carries, 89 yards) and receivers Cameron Jacobson (3-27), Bayha (6-39), Olvera (2-3) and Nick Perkins (1-4).
Hunter Bach and Varelas led the defense with 10 tackles each. Jacobson had an interception.
Cascade (4-4 overall, 3-3 league) is at Brewster (3-5, 2-4) on Friday, Nov. 1.
uuuuu
COULEE DAM – Liberty Bell's offense overwhelmed Lake Roosevelt, 45-0, on Oct. 25.
Chip Jones ran for a score and passed for touchdowns to Chase Kurtz and Jacob McMillan. McMillan also had a 16-yard touchdown run and eighth-grader Findlay Holston added 2 more on the ground.
On Friday, Nov. 1, Lake Roosevelt (3-5 overall, 0-4 league) is at No. 6 state-ranked White Swan (6-1, 4-0) and Kittitas (3-3, 3-1) is at No. 15 Liberty Bell (3-1, 3-10 in a key match up for second place in the Central Washington 2B League.